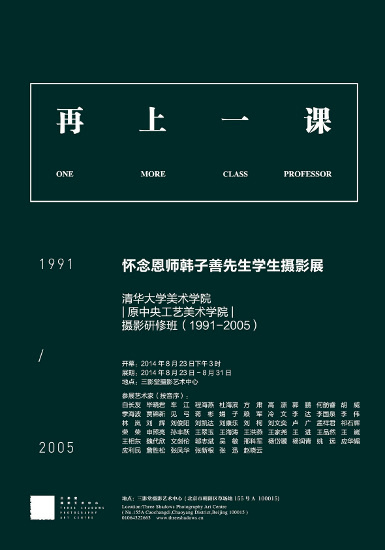 On the first anniversary of Han Zishan's death, "One More Class" will open at Three Shadows Photography Art Centre on August 23, 2014 at 3:00 pm. This exhibition will present diverse documentation of Han Zishan's career and the work of 56 of his students.
Han Zishan (1940-2013) was a noted photographer, photography theorist, and educator. He was a professor at the Academy of Art and Design at Tsinghua University, a member of the editorial board at Popular Photography, and the editor of Contemporary Chinese Nude Photography. He has published dozens of books on the theory of photography and aesthetics, including Thoughts on the Beauty of Photography, Appreciating the Beauty of Photography, Photography: The Mysterious Eye, The Use of Light in Photography, Appreciating Works of Fashion Photography, The Works of Young Chinese Photographers, and Reading the Classics of Photography.
Han was devoted to travel and landscape photography, shooting dozens of series such as Egypt, Travels in Greece, Travels in Europe, The Thundering Yellow River, The Yangtze River, Xinjiang North to South, Desert Songs, Flight of the Soul, Clouds in the Sky, Songs of the River, and In Praise of the Tree.
As a well-known Chinese photography theorist, Han's name and influence was visible in photography competitions, Tsinghua University classrooms, the creation and theory of nude photography, numerous catalog prefaces, and photography review events. Han's students have spread to every part of China. In teaching and fostering artistic talent, he never sought fame or fortune because he was devoted to the education and development of his students. Han's selfless dedication to society has been perpetuated by his students. In the early 1990s, less attention was paid to photography education, but Han's Photography Research Section brought together students from all over China who loved photography yet had not studied at university. Although this Research Section only lasted a few months, it has had a significant impact on Chinese photography today; Han Zishan provided a place for photography lovers to gather.
To commemorate the first anniversary of Han Zishan's death, the students from the Photography Research Section at the Central Institute of Arts and Crafts (Academy of Art and Design at Tsinghua University) from 1991 to 2005 have organized an exhibition entitled "One More Class" to show their respect for their teacher. Even though Han has passed away, his spirit lives on in his students, who have built bridges for interaction and shared their love of art photography with the world. Han's selfless love for his students did not end with his death, because this love will always guide his students.
This exhibition presents some of the best work from Han's students, many of whom come from different cities and showcase regional cultural and artistic exchange and collision, confluence and integration. Because of the artistry and aesthetics of their images, a core group of Lu Guang, Juan Zi, Yao Yuan, and RongRong, have become noted Chinese contemporary photographers. Through his students, Han Zishan has played a significant role in documentary, fashion, and modernist photography in China.
About the exhibition
Duration: Aug 23-31, 2014
Venue: Three Shadows +3 Gallery
Opening: Aug 23 2014 Sat 15:00
Participating Artists (alphabetically): Bai Changyou, Bi Xiaojun, Che Jiang, Cheng Haiyan, Du Haibin, Fang Su, Gao Yuan, Guo Peng, He Fangrui, Hu Wei, Ji Haibo, Jia Jinxin, Jian Gong, Jiang Bin, Juan Zi, Lai Jun, Leng Wen, Li Da, Li Guoquan, Li Wei, Lin Lan, Liu Hui, Liu Junyang, Liu Kaida, Liu Kangle, Liu Ke, Liu Wenyi, Lu Guang, Meng Xiangjun, Qi Shihui, RongRong, Shen Zhaoliang, Sun Fengyue, Wang Cuiyu, Wang Haitao, Wang Hongyan, Wang Jiayao, Wang Jin, Wang Pinran, Wang Wei, Wang Xiangdong, Wei Daixin, Wen Jianlun, Wu Zhibin, Wu Min, Xing Kejun, Yang Daiji, Yang Runqing, Yao Yuan, Ying Huamei, Ying Limin, Zhan Shengsong, Zhang Fenghua, Zhang Xingen, Zhang Xun, Zhao Xiaoyun
Gallery Opening Hours: 10:00-18:00 (Monday Closed)
Tel: 010-64350952
Add: 155A, Caochangdi, Chaoyang District, Beijing
Courtesy of the artists and Three Shadows Photography Art Centre, for further information please visit www.threeshadows.cn.
Related posts: