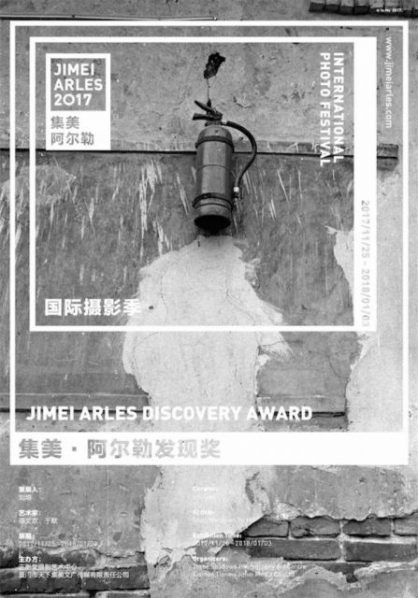 Introduction to Jimei Arles Discovery Award 2017

Text / Liu Tian
I hope to create a landscape as deep as our spirit.
–Shao Wenhuan
It is like the process of forging, molding a piece of iron, you hammer a thousand times before it becomes a sheet, ever thinner, transparent even, and then beyond…
–Yu Mo
Everything began with two chance discoveries.
1. A Cooperation with Mr. Time
What I saw in the studio of Shao Wenhuan was not only the other side of an artist's well-known creations, but also the other side of the fate of "artworks". At first they were just shelved pieces.
Was it due to good or bad judgment, to choice or hesitation, or even to a flash thought? Some things you might have expected were in the process of becoming "artworks" had been indefinitely shelved. They hadn't satified the artist idea of an "artwork", staying on as simply "material". The pause was a false impression howeverm as time marched slowly on, and with it deterioration.
The transformation was "out of the control" of the artist, but still based on his unique way of creating. Shao Wenhuan's wellknown artworks have 'painting specificity' (rather than simply being 'paintings'), coming from simultaneous transfer, with two gelatin preparation – one from photographic media, the other from the pigment used in traditional Chinese painting. All erosion and deterioration occur on the layers of the blend, and what appears on the screen is not one specific image, but "time traces" that are difficult to define.
Perhaps there are two kinds of photography: one has time as the enemy, and is about confrontation or control. The other is about cooperation with time. But the world is not benevolent, and people cannot actually work with time. Therefore the end result can only be waiting, the best cooperation is always met by chance. Because people usually do not realize that some works just cannot be completed. While photography is shot in a short time and sealed for a long time, each photo has its own powerful energy.
By comparison, all museums use vacuum, temperature control, dehumidification, to isolate themselves from the external world and help the "works" escape the passage of time. In refusing to cooperate with time, these artworks hope to become "timeless."
Until today, these old "influences" didn't get a decent name or ending. What is interesting is that it is clear artists face their own uncertainty, about how to judge and promote their own work, and that choice isn't made clearly but rather in a sort of trance. With these pictures, we can see that beyond judgment, choice and control, beyond the narrow intentional "work", lies the force to move people. Although it is outside the photographer's will, and seemingly unintentionally, it touches the depths of the essence of photography.
Photography has limitations for grasping time, as has any attempt to replicate nature. The real power of reincarnation is in the identity of the material, in time, once again entering nature, and accepting: time is the thickest form of glue. You don't know when it will visit, to prove our awareness of its existence, but we have already received its gift.
2. Small Town Story
Another discover was at night by the West Lake in Hangzhou. Yu Mo was talking about his photography, beside a stack of undeveloped film. Later I realised he wanted to use the topic Small Town Story to bring everything together.
Out of long processes, and wandering far, something formed that in a strict sense wasn't so much "creative" as "an encounter". For some situations in your life, fleeting moments, not saying anything, it only takes the action of photography and a nearly-instinctive reflex, to be in charge, receive and respond. Don't forget, shooting photographs is an act of hitting (打), a sudden motion.
This time, there is a mass of photos, recreating the small town vibe by tiling the heavy walls. The small town. Everything is beating me, hitting me until I become transparent wafer-thin iron. All rumors render people neither right or wrong. People start with love and hate, and slowly the difference loses distinction.
This is the story, the people who witness the story, the machine that hits. Most of the photos have never been published. Like most of us most of the time, despite the continuous superposition, are always accompanied more by loss, leaving traces, that are always, in the end, silent.
However, these images do not appear on their own. They come with the everyday calligraphy paper left behind by Yu Mo. This is also a mass of paper, square just like the photos, and stacked like the town walls, but more casually placed and used. These bursts of calligraphy are usually only sent on WeChat moments to friends. They are mainly just parts or single words. They are stacked, and also become a commentary on time. Yu Mo graduated in sculpture, and is all about shape. In discussion, he said: "I describe the camera is a blacksmith, writing as a cocoon. Writing is a brush silhouette, with a sense of suffocation from time to time in daily boring, choking on greatness. But also suffocating on its burden in the cocoon to keep breaking out of the cocoon, being outdated is also a pleasure.
This is undoubtedly contradictory and stubborn, but it is a unified attitude: every seemingly unrelated way, seemingly "outdated", has a moving synchronisation. The key to unity and synchronization is an inherent sense of time and space – so that shooting does not make sense of the "other side" of the adventure, even if walking on the edge of a land, the show is usually life on the same side. Compared to "elsewhere" and "the other side", "this side" is so mottled, so helpless, it accumulates over time, but not necessarily with each passing day. It is always as new as ever, just the same. Just as bold monuments or tactful lines of power, shining out, become fresh habitats but also peaks that cannot be climbed in a lifetime.
But for me, in the final analysis, this "small town" represents "China", a country that by 2050 will contain 600 million farmers. Our city, state, country, body, heart, can be captured within this single square inch, different media can be used to accommodate a "stubborn unity": on one side photographs, on the other ink on paper. This is a small town called China.
This is a report of the two discoveries I made.
About the curator
Liu Tian is committed to both research and creation, with his work spanning curation, creation, theoretical research, design and writing.
As a curator, since 2006 he has participated in the planning of a number of academic exhibitions, including the recent Cause and Examples Projected from It by Wu Shanzhuan and Inga Svala Thorsdottir (2017), a group exhibition at the 11th Shanghai Biannial (2016) entitled Why Not Ask Again? – argument, defence, story, the Third World Action Project of the Inter-Asia Biennale, the 1st Xiamen Jimei Arles International Photography Exhibition Gray · Tough · Frame · Foreign and the 2nd Jimei Arles International Photography Exhibition Scholars and Poets (2016).
In 2010, he established an independent research-creation agency, Open Matter Institute. He is reading for a doctorate from CAFA's Institute of Contemporary Art and Social Sciences Institute on cross-media arts. Projects in progress include Nearly Anti-matter, Dada Declaration and A CASE.
About Shao Wenhuan
Shao Wenhuan was born in Hotan in Xinjiang, and spent his childhood in Changzhou, Jiangsu province. He now lives in Hangzhou. In 2002, he studied at CAFA's Graduate School of Fine Arts, going on to study at the National Academy of Fine Arts in Dijon, France. After graduating, he became an assistant professor in CAFA's Department of Photography. In 2016 he exhibited Membrane – Recycling 'Real Untruths' at Shanghai's 1933 Contemporary. In 2015 at Shanghai's M97 Gallery he held a solo exhibition entitled Silence. Group exhibitions in which he has participated in the past five years include the 2017 inaugural West Lake Art Exhibition, Extremely West Lake, the 2016 Bern Art Museum's Chinese Whispers exhibition, the 3rd Shanghai photographic art exhibition, Insights section, the 6th Jinan International Photography Biennial Another Possibility experimental exhibition, and the Hong Kong Hanart TZ Gallery's Annals of Floating Island exhibition. He exhibited in the 2015 Xiamen Jimei Arles International Photography Gray · Tough · Frame · Foreign exhibition, the Essen Fokwang Museum CHINA8 Chinese Contemporary Art Exhibition, the Shanghai Ming Yuan Contemporary Art Museum's New Haziness, the 2014 Shanghai Minsheng Museum of Modern Art's Chinese Contemporary Photography: 2009-2014, Tokyo Gallery + BTAP New Haziness art exhibition, the 5th Jinan International Photography Biennale's Contemporary Oriental Dimension, the 10th Lianzhou China Contemporary Photography Biennale, Memory – 2nd Italy – China Contemporary Art Biennale and in 2013, the Barcelona Monica Centre's Pure View of Streams and Mountains – Transformation of Chinese Contemporary Art exhibition, and the 1st Beijing International Photography Biennial Exhibition, Aura and Post-aura.
About Yu Mo
Yu Mo, Born in August 1975 in Beijing, Yu Mo graduated from CAFA's Sculpture Department in 2001, staying on to teach. He is now responsible for CAFA's foundational professional graphics division. In 2001 he participated in the 2nd West Lake International Sculpture Invitational Exhibition, as well as the 2nd Vientiane – China Academy of Fine Arts Photography Forum photography exhibition. In 2017 he participated in the 1st See West Lake·Experimental Photography Exhibition.
About the exhibition
Dates: Nov 25, 2017 – Jan 3, 2018
Venue: Jimei Citizen Center
Courtesy of the artists and Jimei Citizen Center, for further information please visit http://en.threeshadows.cn.
Related posts: