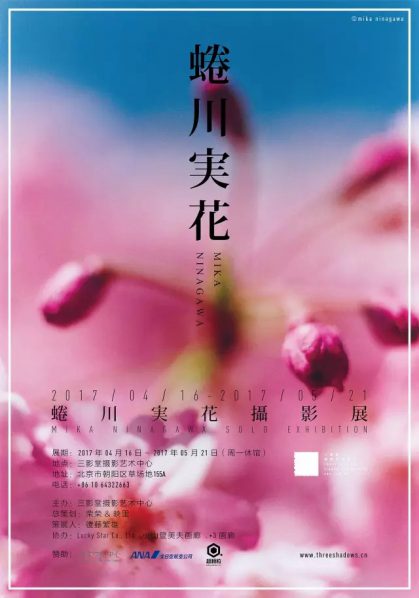 Mika Ninagawa has emerged as one of the most cutting-edge photographic artists in contemporary Japan. She photographs these types of "consumption" such as models and fashion, which are the various mirages produced by human desire. However her works do not stall out at simple, straightforward photographic documentation. Rather it undergoes exaggeratedly gorgeous direction, in order to magnify people's dreams. It's precisely this that makes it so cutting-edge. Although it may appear quite restricted to surface appearance or fashion, that is the reality of people's dreams and desires. While affirming this aspect, Mika Ninagawa simultaneously interweaves darkness and toxicity within its presentation. This is extremely important. Her photographic works have always presented the contradictions in life.
The works presented in this exhibition do not feature models and fashion, but rather primarily focus on flowers and selected works which are most representative of the mystery and essence of her art. Furthermore, this exhibition features photographs ranging from nine different series for the first time, which have been specially selected for mainland China.
About the exhibition
Duration: April 16 – May 21, 2017
Opening: 3:50-4:30 P.M, April 16, 2017
Place: Third exhibition hall, Three Shadows Photography Art Centre
Organizer: Three Shadows Photography Art Centre
Co-organizers: Lucky Star Co., Ltd., Tomio Koyama Gallery, +3 Gallery
Directors: RongRong & inri
Curator: Shigeo Goto
Sponsor: Japan Foundation Beijing, All Nippon Airways Co., Ltd., CHAOKE.LI
Courtesy of the artist and Three Shadows Photography Art Centre, for further information please visit http://en.threeshadows.cn.
Related posts: