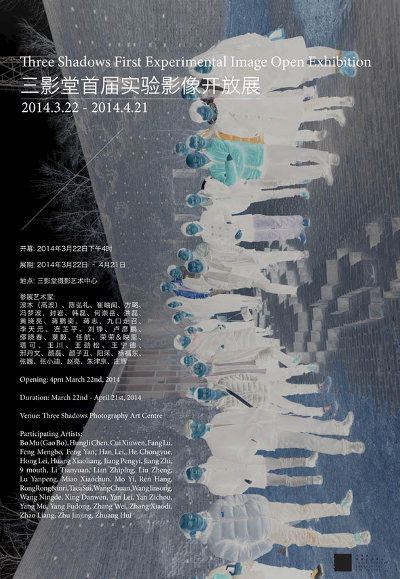 As the title suggests, open exhibition refers to an indefinite theme, freedom to choose mediums for image, and no curators; artists participate freely for impromptu autonomous creation and presentation within a specified time and space, to highlight the non-mainstream and uncertainty. The exhibiting artists, including the earlier artists doing experimental art since the Chinese economic reform, as well as the latest generation of young artists, adhere to the spirit of experimentation, and take the challenge of creating in a limited time. It presents generations of Chinese experimental artists' spirits of freedom and a richer appearances.
Participating Artists include:
Bo Mu(Gao Bo), Hungli Chen, Cui Xiuwen, Fang Lu, Feng Mengbo, Feng Yan, Han Lei, He Chongyue, Hong Lei, Huang Xiaoliang, Jiang Pengyi, Jiang Zhi, 9 mouth, Li Tianyuan, Lian Zhiping, Liu Zheng, Lu Yanpeng, Miao Xiaochun, Mo Yi, Ren Hang, RongRong & inri, Taca Sui, Wang Chuan, Wang Jinsong, Wang Ningde, Xing Danwen, Yan Lei, Yan Zichou, Yang Mu, Yang Fudong, Zhang Wei, Zhang Xiaodi, Zhao Liang, Zhu Jinjing, Zhuang Hui
About the exhibition
Duration: March 22nd – April 21st, 2014
Venue: Three Shadows Photography Art Centre
Opening: 4pm March 22nd, 2014
Gallery Opening Hours: 10:00-18:00 (Closed on Monday)
Tel: 010-64322663
Add: No. 155A Caochangdi, Chaoyang District, Beijing
Courtesy of the artists and Three Shadows Photography Art Centre, for further information please visit www.threeshadows.cn.
Related posts: