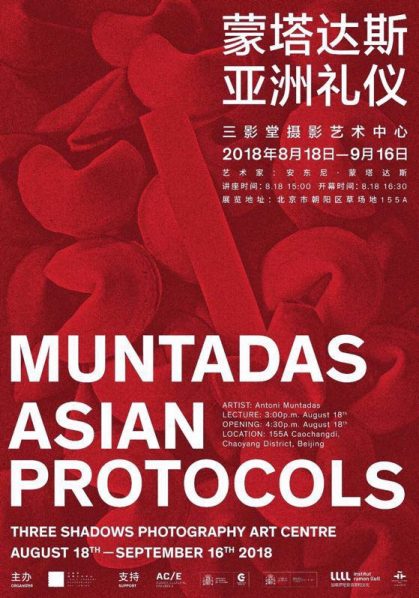 Three Shadows Photography Art Centre is proud to present the Spanish artist Antoni Muntadas exhibition Asian Protocols: China, Japan and South Korea, a multi disciplinary research art project investigating the ways that private and public protocols affect society and people's lives. According to the artist, "Protocols generate at the same time a series of regulations that exert their influence as much in our private rituals as in our public behaviour. Conventions, rules and protocols cover a variety of procedures that, by different means, try to control or exercise power."
Starting from the premise of Muntadas as an outside observer planted in three countries, he develops his own research exploring questions about the idea of "protocol" as applied to culture, politics, education, society, public and private space, economy, the religion, etc. As an artist, his analysis takes the form of videos, installations, documentary films, archives, and others – an array of disciplines that Muntadas has been exploring for the several decades.
Asian Protocols, then, is a visual research work focused on the cultural background of the three countries, dissecting the similarities and differences between the collective and the individual in all three. It also attempts to break down stereotypes about the three countries, focusing on three megacities: Beijing, Seoul, and Tokyo.
The exhibition does not intend to delve into politics explicitly, but rather how history and culture condition the manners, gestures, and forms that societies build into themselves. Nor does it intend to apply a critical lens to any of the three countries or societies – just an analytical perspective. It not only focuses on similarities and differences, but conflicts and the potential for cooperation.
The first instalment of the project was presented at the Total Museum in Seoul in 2014. In 2016 the project was shown at 3331 Arts Chiyoda in Tokyo. The third and final exhibition will be held at The Three Shadows Art Centre in Beijing in August 2018.
Since its beginning, the project has been constantly growing, enriching itself with research carried out in each specific site, offering new contents and formats. In the Beijing exhibition the audience will find a total of 10 well-differentiated sections presented through a wide spectrum of artistic formats that, far from trying to show conclusive ideas, pretend that the spectator himself is the one who elaborates and questions his own analysis and conclusions.
The project will be possible thanks to the support of Acción Cultural Española AC/E, the Spanish Embassy in China, the Ministry of Culture of Spain, the Institute Ramón Llull from Barcelona, Foundation for Contemporary Arts Emergency Grant, and the collaboration of Cervantes Institute Beijing as well.
About the exhibition
Dates: August 18 – September 16
Opening: August 18, 15:00: Lecture, 16:30: Opening ceremony
Venue: Three Shadows Photography Art Centre(155A, Caochangdi, Chaoyang, Beijing)
Courtesy of the artist and Three Shadows Photography Art Centre, for further information please visit www.threeshadows.cn.
Related posts: