Key to the installment of Tianzhuo Chen's presentation at chi K11 art museum in Shanghai is the performance titled Trayastrimsa, after the heavenly abode of 33 devas or divine beings mentioned in Buddhist and Hindu scriptures. In other traditions, 33 is the age when Jesus Christ was martyred, and in our own mortal existence, it is the number of vertebraes in our spinal column. Trayastrimsa continues the vein of ADAHA II, the operatic performance presented at Palais de Tokyo performed by a cast of Parisian vogue dancers from the House of Drama, contortionists and butoh dancers. ADAHA II was performed across three separate platforms, traversing a water fountain, neon flame and two, four-meter tall polyfoam sculptures that resembled deities whose 'ruined' aftermath are presented in Shanghai.
The open and bold representation of debauchery, decadence and indecency in Tianzhuo's work belies its superficial outlook. More than the capitalization and manipulation of trends of the day, the core of his works are inspired by concepts drawn from Tibetan Buddhism, the faith he profess. Each video, sculpture or installation is a scape, an impression, not dissimilar to traditional Tibetan Thangka or devotional images that are teaching tools and devices for introspect; and all confrontations not dissimilar to the various 'wrathful deities' in Tibetan Buddhism such as Nagpo Chenpo (Great Black One) or Vajrabhairava (Conqueror of Death) fearsome representations of the enlightened whose task is to lead mortals to enlightenment.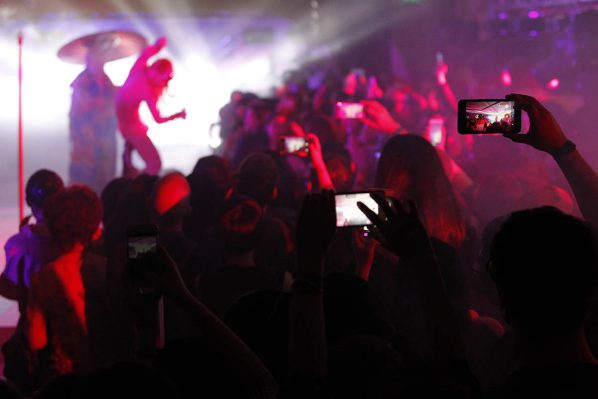 Tianzhuo's mental projections are composed of images and installations constructed as theatres, filled with a menagerie of acrobats, androgynous characters, five-eyed blondes, gangster rappers and other outlandish characters on caramel and neon-coloured backgrounds. They all remind us of something uncannily familiar and paradoxically as attractive as they are repulsive. This is a world where we depend on drugs to introspect while pandering to violence and wealth at other times. In reality, these are a reflection and magnification of everyday ridicule, of our contemporary celebrities and heroes, fashion and affectations, all animated as if they are celestial gods and goddesses worthy of praise where most trends and life's habit begin as alternatives to mainstream practices. These habits, often viewed as acts of deviancies typically find themselves prematurely purged but some ultimately evolve to pave its way to the mainstream. And as part of the mainstream, it constructs hierarchical structures, each commanded by the most persuasive and prophetic leader. Clans and tribes are formed, and the ardent and most dutiful of its doctrines become devotees. Devotees mature as idolizers, or 'blind adorers' in a newfound system of belief. Like Tianzhuo's work, they are an allegory of the breakdown in society where blind devotion to carnal desires and a habit of faith and worship-when-convenient are commonplace.
About the exhibition
Date: May 21 – June 30, 2016
Venue: chi K11 art space
Courtesy of the artist and K11 art space, for further information please visit www.k11artfoundation.org.
Related posts: