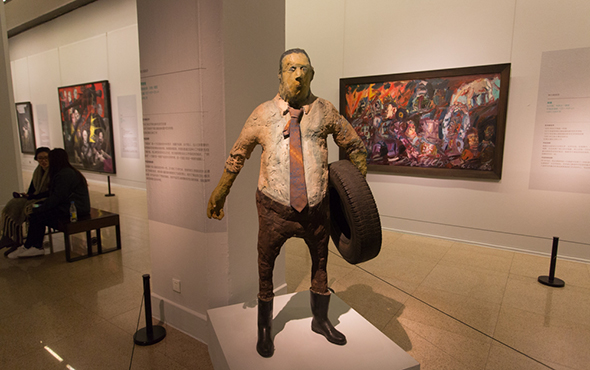 As one of the Collection Activation Series of Exhibition, "Timeless Warmth – National Art Museum of China Selected Exhibition of the Ludwig Couple's Donated International Works" kicked off on February 24. Prof. Peter Ludwig (1925-1996) was a famous German entrepreneur and social activist, along with his wife Irene Ludwig (1927-2010) they were also world famous art collectors. They have collected thousands of precious works of art over decades, which were donated or lent out to dozens of museums around the world, to promote the development of the international art and art museums, and it has made outstanding contributions to international cultural exchanges. The National Art Museum of China was fortunate to receive 89 sets (117 pieces) of works by 82 European and American artists donated by the Ludwig couple on March 27, 1996. As a beneficiary of the donation, the National Art Museum of China has been committed to the transmission and communication of civilization for many years. Through the exhibition, research, public education and other activities, more people are allowed to enjoy the gift of this civilization, which is the legacy of Peter Ludwig and Irene Ludwig, and the purpose of the career of the National Art Museum of China.
Most of the donated works were created in the 1960s going through to the1990s, including the masterpieces of different genres in various stages of modernism in Europe and the United States, for example: masterpieces by German new expressionist masters Georg Baselitz and Markus Lupertz, American Pop Art master Roy Lichtenstein, as well as internationally renowned art master Picasso. They built an artistic panorama of the times, which makes the culture transcend the fractured history, connecting the fragments of human civilization, and compiling a complete and eternal image.
The Ludwig couple are noble which is not only in their collection but also in respect of the donation. Michael Clauss, German Ambassador to China said that, "I am convinced that the two countries' different cultures can learn from each other, so that we can call this exhibition the 'Timeless Warmth', and the works donated by the Ludwig Foundation are part of the indispensable things that keep the timeless warmth." Looking back on these hard-won works, we will always remember the warm names of the donors Peter Ludwig and Irena Ludwig!
Text by the organizer and Photo by Yang Yanyuan/CAFA ART INFO
Translated by Chen Peihua and edited by Sue/CAFA ART INFO
About the exhibition
National Art Museum of China Collection Activation Series of Exhibition "Timeless Warmth – National Art Museum of China Selected Exhibition of the Ludwig Couple's Donated International Works"
Duration: February 24 – March 19, 2017
Organizer: National Art Museum of China
Venue: Hall 13-17
Related posts: