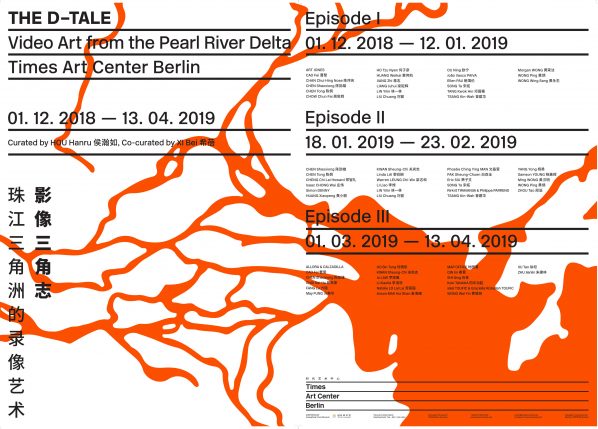 Times Art Center Berlin (TACB), a new experimental space for contemporary art from China in Berlin, will open to the public on November 30, 2018.
In its three-part inaugural exhibition, Times Art Center Berlin will introduce a part of the Chinese art world which is critically important but remains lesser known in the West and underrepresented in the global art market, namely, the experimental art scene from the Pearl River Delta (PRD). A highly particular part of China with its distinct cultural characteristics and traditions, the PRD has been closely related to international influences and interwoven with popular culture from the beginning. Frequent exchanges between Guangdong, Hong Kong and Macao, the impacts of Hong Kong's popular culture, film, television and pop music concerning visual culture, coupled with a sensitivity for and references to international new media art, led to prompt experimentations in video art across the entire PRD.
Video art in the region of the Pearl River Delta emerged as early as the mid-1980's. Videotage in Hong Kong and Southern Artists Salon in Guangzhou were pioneers and galvanizing creative forces in the field. This movement had been carried forward by the rise of collectives and individuals, including the "Big Tail Elephants Working Group", the "Borges Bookstore", "U-theque", and artists JIANG Zhi and CAO Fei. By adopting the medium of moving images, artists from the Pearl River Delta seek freedom and forms of resistance against dominant ideology and powers, turning ordinary gestures into artistic strategies to construct diverse "personal utopias". Their works represent the most groundbreaking and powerful visions of experimental art and culture in the PRD. As a result, the PRD has become a creative hub for international exchange and art activities, as well as a deviated model which inspires artists from other region.
In recent years, art created in China, by artists both from China and abroad, has become a major part of the global art scene. Now, the time has come to reflect this progression in Berlin. As an associated organisation of the renowned Guangdong Times Museum, Guangzhou in southern China, TACB has been established with that mission in mind. It is the first time an independent Asia-based art museum has founded a parallel institution abroad. As a non-profit art institution, Times Art Center Berlin aims at facilitating cultural conversations between Asia and Europe through collaborations with artists, curators, intellectuals and institutions based in Berlin. TACB operates as an independent and self-governed organisation and will realise a series of exhibitions, research projects, commissions, screenings, discursive events, artist residencies and publications. As an experimental space and research-oriented platform, it hopes to add a voice from the Global Souths to Berlin's vibrant artistic scenes. Its inaugural exhibition belongs to the Operation PRD curatorial framework following the exhibition Big Tale Elephants.
Times Art Center Berlin is initiated by the Guangdong Times Museum. This is the first time an independent Asia-based art museum has founded a parallel institution abroad.
About the exhibition
Curated by: Hou Hanru, Xi Bei
Venue: Times Art Center Berlin, Potsdamer Strasse 87, 10785 Berlin, Germany
Episode 1, Urban Explosion
01.12.2018 – 12.01.2019
ART JONES, CAO Fei, CHAN Chui Hing Nose, CHEN Shaoxiong, CHEN Tong, Isaac CHONG Wai, CHOW Chun Fai, HO Tzu Nyen, HUANG Weikai, JIANG Zhi, LIANG Juhui, LIN Yilin, LIU Chuang, OU Ning, João Vasco PAIVA, Ellen PAU, SONG Ta, TANG Kwok Hin, TSANG Kin-Wah, Morgan WONG, WONG Ping, WONG Wing Sang
Episode 2, Towards Autonomy
18.01.2019 – 23.02.2019
CHEN Shaoxiong, CHEN Tong, CHENG Chi Lai Howard, Isaac CHONG Wai, Simon DENNY, HUANG Xiaopeng, KWAN Sheung-Chi, Linda LAI, Warren LEUNG Chi-Wo, LI Liao, LIN Yilin, LIU Chuang, Phoebe Ching Ying MAN, PAK Sheung-Chuen, Eric SIU, SONG Ta, TSANG Kin-Wah, YANG Yong, Samson YOUNG, Ming WONG, WONG Ping, ZHOU Tao
Episode 3, The Politics of the Self
01.03.2019 – 13.04.2019
ALLORA & CALZADILLA, CAO Fei, CHEN Shaoxiong, CHOI Sai-Ho, FANG Lu, May FUNG, HO Sin Tung,
KWAN Sheung-Chi, Jo LAW, LI Xiaofei, Natalie LO Lai Lai, Anson MAK Hoi Shan, MAP OFFICE, QIN Jin, SHI Qing, Koki TANAKA, Jalal TOUFIC & Graziella Rizkallah TOUFIC, WONG Wai Yin, XU Tan, ZHU Jianlin
Courtesy of the artists and Times Art Center Berlin, for further information please visit www.timesmuseum.org.
Related posts: