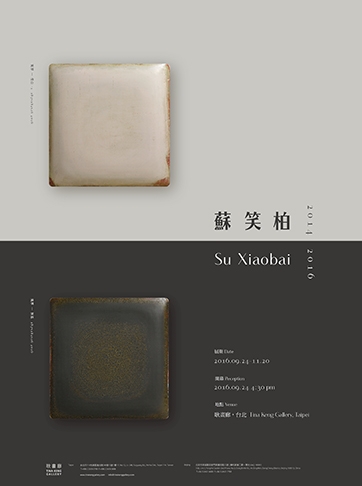 With only the concept of time as
its
title, Su Xiaobai 2014-2016 does not confine
the artist's
work
completed during
this
period of
time to any preconceived notions, which adheres to the artist's staunch belief
:
"
I do not wish to present a construct or a narrative in my work.
"
But how can an exceptional and accomplished artist be devoid of stories or legends? Since Su Xiaobai began his artistic journey in Germany in 1987, his artistic thought has undergone a series of metamorphoses. The artist's astounding instinct for color and awe-inspiring vision has gathered force over an extended silence. His unique personal experiences have earned him the distinction as an "artistic phenomenon" in Germany. His solo exhibition entitled The Dynasty of Colours, co-sponsored by German television station ZDF and the Langen Foundation, toured Germany from November 2009 until the following January. On the show's opening day, a heavy fall of snow blanketed the picturesque North Rhine-Ruhr region, without deterring the thousands of spectators who arrived at the magnificent Langen museum. This scene has been captured, along with images of Su Xiaobai at work in his Shanghai studio, in the documentary film Xiaobai.

But the stories and legends do not end there. The respected Italian publishing house Skira became part of the legend in 2014 when they began to edit a major catalogue over the course of two years, entitled Su Xiaobai. The book became one of the most important publications for Skira this year. The current solo exhibition also marks the debut of the Su Xiaobai catalogue in Taiwan.
In an interdisciplinary collaboration with the Japanese interior design team at
Noiz Architects, consideration was given to construct three spaces specific to the works in each one for this solo exhibition. A gray, a black, and a white space each engages in dialogue with the works. The 15 works in the exhibition also display a contrast of variations in thickness. The airy thinness of the
Ataraxia
series contrasts against the girth of the Bountiful
series, while extending through space toward a monochromatic contrast in
Bountiful
—
Crystalline White-1
and
Bountiful
—
Amplitude
.
In The
w
orld is
y
ours
a
s
w
ell
a
s
o
urs
, a major exhibition of Chinese abstract painting held in London in 2016,
the curator described Su Xiaobai's work thus: Su's works are both hedonistic and mystical, defiantly sculptural while exquisitely painted. Ranging from shell-like finishes to sensuous, curved profiles and abraded textures, they exist entirely on their own terms, possessing their own history, character and independent existence. Rather than depicting other objects, his art engages with the idea of being itself. At its centre, Su's work uses the visual language and context of art to embody issues which are both philosophical and, at an everyday human level, universal.
His work expresses existence itself rather than a depiction of otherness. Just as Su Xiaobai says
,
"
Leave the narrative to whoever wants a narrative. All I ask for is a little light, a little surface and undulation, with a bit of color, a bit of flow.
"
Su X
iao
bai was born in 1949, in the City of Wuhan in China's Hubei Province. He entered the
Central Academy of Fine Arts
in 1984 to study oil painting. He was awarded the
North Rhine-Westphalia
Culture and Arts Scholarship in Germany in 1987 to attend graduate studies and master classes at the
Kunstakademie Düsseldorf
. Some of his recent major exhibitions includePainting and Being (2014) at the Pearl Lam Galleries in Hong Kong, Su Xiaobai(2014) at the Almine Rech Gallery in Paris, France,
Grand Immensity
(2013) at the National Taiwan Museum of Fine Arts
in Taichung, Taiwan
, a
touring
exhibition in Germany entitled
The Dynasty of Colours
(2010)
,
co-sponsored by German television station ZDF and the Langen Foundation, Artificer's Record
(2008) at the Today Art Museum in Beijing,
China, and
Intangible Greats
(2007) at the Shanghai Art Museum
in Shanghai, China
. Recent major
group
exhibitions include
The
w
orld is
y
ours
a
s
w
ell
a
s
o
urs
(2016) at London's White Cube
Mason's Yard
.
About the exhibition
Dates: 09/24/2016 – 11/20/2016
Venue: Tina Keng Gallery
Related posts: