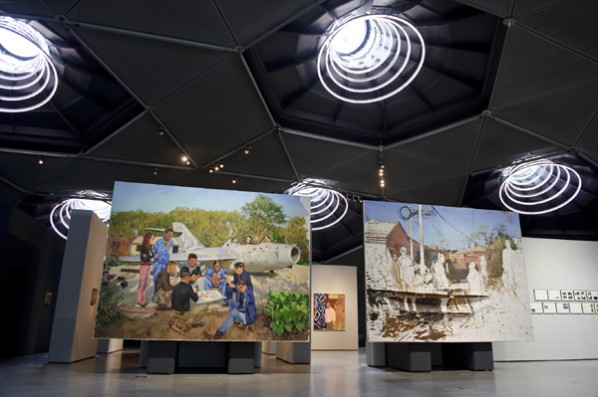 After a month stay in the desolate mining town of Eisenerz, Austria, Liu Xiaodong has opened his new exhibition entitled "The Process of Painting" at Kunsthaus Graz. Curated by Gunther Holler-Schuster, it brings together Liu Xiaodong's newest Austria project with Hometown Boy, a series created in conjunction with UCCA in Beijing. Besides his paintings, there are a total of eight documentary films being screened at various points throughout the exhibition enabling audiences to gain a well-rounded perspective of Liu's painting process from various projects. Incorporating all 116 pages of his diary from Hometown Boy as well as the 32 from Eisenerz, there was a plethora of emotions, anecdotical tales and photos exhibiting there.
The painter Liu Xiaodong is one of the most internationally well-known representatives of a generation of Chinese artists who grew up in a new society marked by rapid and frequent shifts in perspective. He uses the language of form of Socialist Realism and conventional documentary media to lend a voice to daily life against the backdrop of radical change. Earthquakes, changes in landscape and human-made ecological disasters as well as social formation based on economic transformation: all these have been captured by Liu Xiaodong. He confronts the developments by visiting the places concerned and attempting to capture the significance of events in a visual form.
For the exhibition Liu Xiaodong: The Process of Painting in the Kunsthaus Graz, the artist has chosen Eisenerz in Upper Styria, Austria, as the location for his latest project where he lived and worked for a month with a team of assistants and camera operators. The situation with the centuries-old industrial and cultural landscape bears a striking resemblance with conditions in China. Eisenerz, exposed to an enormous process of change, is suddenly transformed into a global model. The degeneration caused by structural shifts and the accompanying social transformation have created visible problems and attempts to overcome them are varied. As a painter Liu does not tackle events and historical developments in a combative way, rather as a chronicler. He attempts to express the transition from one form of society to the other through pictures.
About the exhibition
Dates: 06.06.-02.09.2012, 10:00 AM – 05:00 PM
Venue: Kunsthaus Graz, Space01
Curator: Günther Holler-Schuster
Tel: +43-316/8017-9200
E-mail: kunsthausgraz@museum-joanneum.at
Courtesy of Liu Xiaodong and Kunsthaus Graz, for further information please visit www.museum-joanneum.at/en/kunsthaus.
Related post:
Liu Xiaodong's "The Process of Painting" Opens at Kunsthaus Graz by ArtConscious.
Related posts: