Organized by the Postgraduate Association of CAFA, "To be a Philosopher and Craftsman": Forum by Liu Libin and Chen Wenling, was held at the Academic Lecture Hall in Building 5, CAFA, at 18:30pm on December 5, 2012. It was one of the academic lectures series of the postgraduate themed "Facing the Future": the First Postgraduate Forum from CAFA. They told us about their philosophy of art with a discussion and exploration. Chen Wenling initially introduced the reason why the forum was named "To be a Philosopher and Craftsman", as put forward by Mr. Zhu Qiling, an ancient architect in the early 20th Century, as artist Michelangelo said "Artist is both philosopher and craftsman", art should be the combination of the philosophical method and craftsmanship. It was a fast developing epoch for contemporary art, based on which he talked about his understanding of contemporary sculpture. Chen Wenling displayed some contemporary sculptures, one part of which were some photos of impressive works from the recent Venice Biennale, "Dialogue with Chicago" Contemporary Chinese Sculpture Exhibition, Cassell Biennale, with an accurate interpretation. He said, the majority of these contemporary sculptures used a lot of copper, but it wasn't behind the times. We declared a work as contemporary art through its new and breakthrough language, instead of the use of material. When it came to the sculpture of David, Chen Wenling said he was touched every time he looked at it, he believed that it was "the high integration of concept and language", the very perfect combination of "philosophical method" and "craftsmanship". He showed his works and some public projects he participated in during the second part. It is impressive for the public to see the large-scale red sculptural group "Red Children" which has a highly visual impact; "Pigs" series is mirroring his thinking of the human struggle with materials, it is ironic and critical.
The second part presented the dialogue between Liu Libin and Chen Wenling.
Liu Libin enumerated a large number of artists from Fujian Province including Chen Wenling, whose works showcased a kind of tension. He asked Chen Wenling what he thought about local culture from an artist's point of view, and how to integrate these local elements? Chen Wenling answered that there was a marine culture in Xiamen that the local people had the spirit of adventure, affecting me to a certain extent, "artists are always fighting with themselves during their lives." He won't give up easily. To answer the question of how to integrate local folk elements, he said he was inspired when he thought; this was the context when the works originated from the artist's heart.
Then, Liu Libin said, when he saw the "Pigs" series by Chen Wenling, whose bare uncovered factual images and stimulation from on the spot cheap perfume, reminded him of the concept of gaudy art: artists treated something ironic with folk art. When Chen Wenling produced the image of the pig, he had never treated it elegantly. Chen Wenling didn't think of himself as an artist of gaudy art, and it was difficult to define what kind of artist he was. He had his idea about pigs. There were some similar features between Chinese people and pigs, and it was difficult to define pigs' smartness, dirtiness and greediness.
Liu Libin said he was shocked by the sculpture of David just shown by Chen Wenling, and then, he had a discussion with Chen Wenling about the relation between artworks and times. Chen Wenling believed that artists should conform to society, as Wang Huangsheng said in an interview: "It's too expensive to talk about independence that is a fact we have to face." He liked to hear different voices, which was a kind of discussion, thus improving his art. An artist has to keep both systems of rotation and revolution, when conforming to certain times, artists shall keep their independence and stick to their positions, he said: "artists are in need of loneliness, as well as talent".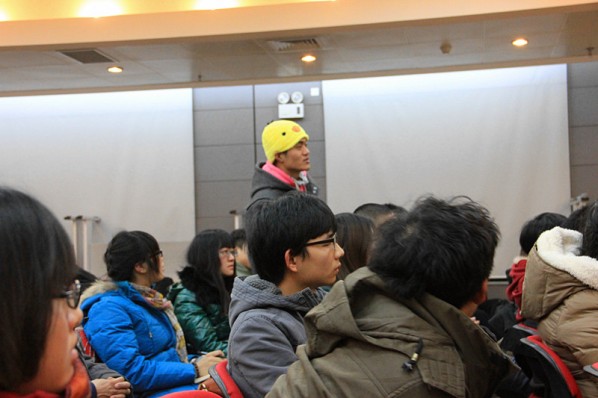 There was an inter-deparment communication between the teachers and students during the third part. A student asked: how to deal with the relation between artist and curator? Chen Wenling thought that it was the "alliance between giants", but artists should be initially clear about what they were. As a curator, Li Libin thought that curators play a role as the channel between artists and society, joining both ends together. When asked how to face the variety of difficulties in creation and life, Chen Wenling, by his experience, told the students that they should wait during their lives, and an artist had to create the full feeling of true love and affection, no matter what kind of throwback he or she faced.
Text and photography by Sun Zheng/CAFA ART INFO
Translated by Chen Peihua/CAFA ART INFO
Related posts: