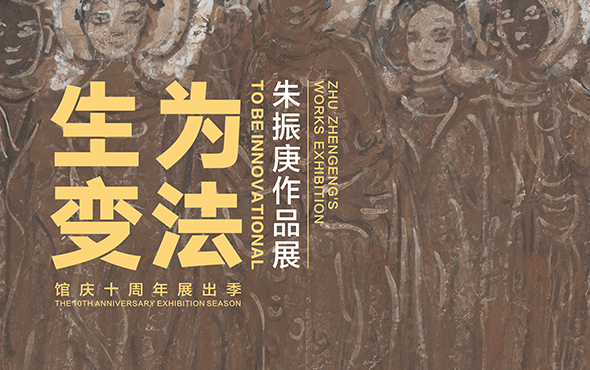 On August 10th, the "To Be Innovational– Zhu Zhengeng Exhibition" was opened at the Wuhan Art Museum. In order to present its important exhibition in 2018, Wuhan Art Museum specially invited the famous critic Li Xianting as the curator.
Zhu Zheneng was born in Xuzhou in 1939 and in 1978 he was admitted to the postgraduate class of the Chinese Painting Department at the Central Academy of Fine Arts. He studied under the guidance of Jiang Zhaohe, Ye Qianyu, Li Keran, Lu Chen and so on. Zhu Zhengeng got enrolled in the Central China Normal University in 1989 and has been engaged in the teaching, creation and research of Chinese painting since then. He is an artist with innovative spirit in theory and practice and he has made great achievements in the fields of freehand color, comic strip, sketching and engraving. In 2012, Zhu Zhengeng passed away.
Fan Feng, Director of the Wuhan Art Museum, told journalists that the Wuhan Art Museum has always attached importance to the regional culture, but Zhu Zhengeng was the first one for them to repeatedly present an artist's exhibition. "The last exhibition was held in 2009. I still remember that he donated a painting to the museum and it was about the 2008 Wenchuan earthquake."
Li Xianting, who has not planned a solo exhibition for an artist for many years, recalled: "We first knew each other when he was a postgraduate student in the Central Academy of Fine Arts in the 1980s, at that time telephones were not popular. The most profound impression was that he came in out of expectation, taking out small pieces of yellow paper, with his sketches on various occasions." Li Xianting was impressed by Zhu Zhengeng's talent at that time, and he wanted to plan an exhibition for Zhu. However, for various reasons, Li's promise was not fulfilled until thirty years later. "I personally think that he is an underestimated artist in the history of art. His famous works and masterpieces were all created in Wuhan, and now I am here to complete our agreement, which makes me particularly moved. His works have changed my inflexible impression of Wuhan ink painting, from the aspect of Chinese painting, he is a master of skill and Taoism."
More than 110 pieces of work by Zhu Zhengeng are present in this exhibition, in addition to his masterpieces, the display of manuscripts, interview videos, chronology and other literature materials, are presented to restore the clues, evolution and development of Zhu Zhengeng's artistic creation as much as possible, thus the audience could better understand Zhu Zhengeng's artistic thoughts and achievements. Through a few sketches of manuscripts with modelling experiments, as well as books read by Zhu Zhengeng, folk art he collected, and African woodcarvings he copied, Li Xianting wanted the audience to comprehend an artist's daily work and life, and further learn about that each piece of work was focused on his inner feelings and changes in innovations.
In addition to local artists, many painters and critics came from Beijing, Shanghai, Nanjing and other cities to attend the opening ceremony of the exhibition. Everyone also believes that although Zhu Zheneng had many exhibitions, but the research on his art has just begun.
It is reported that the exhibition will last until September 12, and the audience could visit the exhibition at the Wuhan Art Museum for free.
Courtesy of Wuhan Art Museum, translated and edited by Sue/CAFA ART INFO
Related posts: