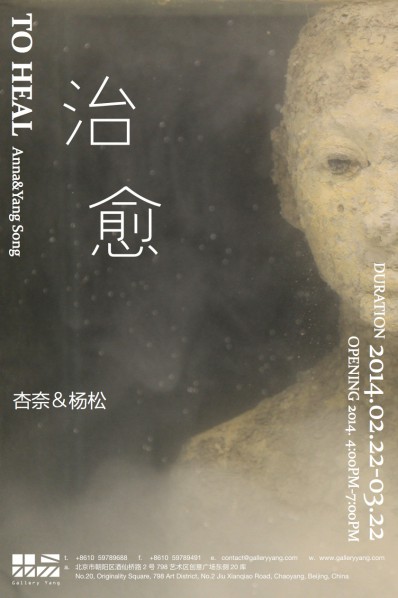 At 4:00 pm on February 22, 2014, Gallery Yang opened the first solo exhibition of the year entitled "To Heal", showcasing works by Anna and Yang Song, both born in the 1980s. While Anna comes from Japan, Yang Song is from China.
For young people, it is difficult to feel the fear and sorrow of humanity, if people don't temper themselves and practice through experience and time. The precipitation of things in their life are thought to be superficial and simple by the older generation, but it is precisely the simple and inexperience that makes the works by the two artists maintain a childlike soft feeling and compassion, the compassion is gradually abandoned by people as they enter secular society. The inner hearts of some people seem sophisticated and become tough and cold due to the cruelty of humanity. Perhaps human dignity just stays with the youths, in the depth of the coldness. The exhibition is entitled "To Heal", which originates from the common point of view of the works by the two artists.
About the exhibition
Artists: Anna & Yang Song
Duration: February 22 – March 22, 2014
Venue: Gallery Yang
Courtesy of the artists and Gallery Yang, translated by Chen Peihua and edited by Sue/CAFA ART INFO.
Related posts: