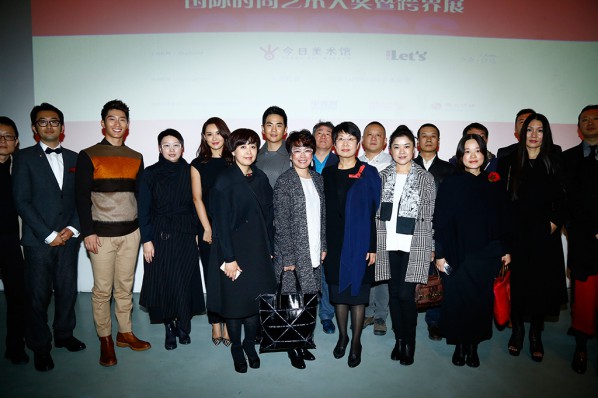 On the afternoon of October 29, 2014, Today Art and Fashion Award and Exhibition(TAFA) was successfully inaugurated at Today Art Museum. Initiated and organized by Today Art Museum, in cooperation with P. Kawa, co-organized by Let's Weekly, Tianyi Media, Fashion and Jewellery International Art Union, the exhibition will continue to November 14. The opening ceremony heralded the comprehensive start of the TAFA project, and marked an unprecedented comprehensive trans-boundary platform which was officially launched.
At the opening ceremony, the judges and advisors including Tan Ping, the famous contemporary artist, Vice President of the China National Academy of Arts, Gao Peng, Director of Today Art Museum, Li Qianrun, Editor in Chief and the publisher of "Let's Weekly", Professor Lv Yue, contemporary artist Cui Xiuwen, Founder of Fashion Design of the School of Design, CAFA, Sun Jiangmei, Director General Manager of Beijing P. Kawa attended the opening, in addition, popular modern Chinese stars Zhang Xiaolong, Mo Xiaoqi and Dou Xiao, who often participate in a variety of trans-boundary cooperation with "Let's Weekly", also attended the opening.
During the activity, the honoured guests spoke one by one on stage, expressing their support of and attention to the trans-boundary art platform. The trans-boundary exhibition combines many expressive means, such as exhibiting videos and works, video screening, dynamic projection, etc., so contemporary art and fashion elementsare mutually blended with and collide with design inspiration, these are all vividly presented before people's eyes, offering a new path for multi-level art and a diversified trans-boundary of contemporary art.
At TAFA, artists and designers contribute their works, which are integrated for re-creation, and we share the common theme in modern art and design. Artists, designers, and super stars with different backgrounds, roles, and professions work together to create a fashion and arts show of immense diversity. Boundaries are broken down to allow all possibilities of collaboration with the top players in all fields and integration of resources. Ideas and perceptions about fashion and arts will be best presented through diverse forms.
The inaugural exhibition of Today Art and Fashion Award and Exhibition (TAFA) 2014 collectively presents the current wonderful trans-boundary events and works, and it contains many excellent exhibitions and special exhibition sections:
Today Art and Fashion Award Special Invited Exhibition
In this section, contemporary artists such as Xiang Yang, Shi Jinsong, Yan Feng + Wu Fan, Huang Ying, Yu Xiangming, Geng Xue, Xu Liang, and popular designers such as Wang Yutao, Wang Peiyi and Zhang Chi showcase their latest creations and excellent trans-boundary works, together they discuss and showcase the trans-boundary beauty of arts and design.
"Urban Interest" Artists + Stars Third Portrait Exhibition
"'Urban Interest' Artists + Stars Third Portrait Exhibition" consists of five senior art consultants, more than 20 active artists and nearly 30 popular stars, who create and showcase together, including: Ai An + Nicky Wu, Shi Jinsong + Wu Mocou, Xiang Jing + Yuan Quan, Qi Zhilong + Liu Zi, Liu Kun + Shang Wenjie,
Na Wei + Gong Beibi, Xu Jingyu + Guowei VC, Li Hongjun+ Dou Xiao, Li Bo + Huang Yida, He Wenjue + Zhu Zhu, Chen Xi + Chen Zhengfei, Wu Di + Lin Gengxin, Zhang Xuerui + Hai Qing, Hang Chunhui + Zhou Bichang, Xu Hualing + Tang Yan, Huang Ying + Li Chen, Jiang Huajun + Annie Shizuka Inou, Guan Yong + Mo Xiaoqi, Li Wei + Huayi Brothers music team (Shang Wenjie, He Jie, Guowei VC, Milk and Coffee), Qu Guangci + Wu Xiubo
2014 When Fashion Meets Jewellery – Beijing Today Art and Fashion Exhibition
Themed on "Meet", TAFA 2014 invited 27 Chinese and Korean artists and designers including Keysook Geum, Lv Yue, Zhang Xueli, Cao Youzhen, Han Jiongxia, Fan Yongshun, etc., to participate in the exhibition.
TAFA annually drives for more effort in exploration and progress in fashion and arts, disrupting and integrating core resources and personal connections of all sectors, and helps to build the most influential and largest commercial trans-boundary platform.
Photo by Zhang Wenzhi & Today Art Museum
Text by Zhang Wenzhi, translated by Chen Peihua and edited by Sue/CAFA ART INFO
Related posts: