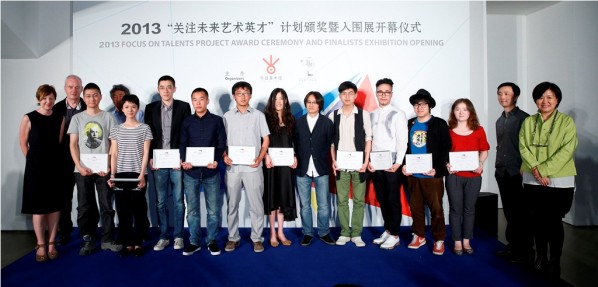 Today Art Museum, Beijing presented 2013 Focus on Talents Project Finalists Exhibition Opening, which is jointly organized by Today Art Museum and Martell Art Fund, on May 18, 2013. Xie Suzhen, Director of Today Art Museum, Wang Jue, Director of Pernod Ricard China, and the judging committee including Karen Smith, Mark Nash, Tan ping, Wu Hongliang, and Curator Dong Bingfeng were invited to give presentations at the ceremony. The works of 10 finalists will be displayed on May 19 through to May 27, including: Chen Chenchen, Chu Bingchao, Gao Shengjie, Gao Su, He Shiyi, Lei Lei, Lv Yanxiang, Xu Sheng, Tong Xiao, and Zhang Xiaodi(in alphabetical order by last name). The finalists cover various content and take different forms, including oil painting, prints, sculpture, Chinese painting, images, installations, mural, etc., displaying the wealth of imagination and experimental spirit of contemporary young artists.
The judging committee of "2012 Focus on Talents" includes Jiang Jiehong, a master instructor and curator, Karen Smith, curator, Mark Nash, former Director of the Department of Contemporary Art of the Royal College of Art, Tan Ping, artist and Vice President of CAFA, Wu Hongliang, artist and Director of Beijing Fine Art Academy (in alphabetical order by last name). After observation, discussion and voting by the judges, Zhang Xiaodi eventually won the "Talent Award", and his works will be collected by Martell Art Fund and donated to Today Art Museum for collection. The judges agreed together that the mature, steadfast, pure, and self-confident rendering of the works and a solid foundation of the image skills deeply impressed them.
Karen Smith thought the innovative new media works were especially impressive. Mark Nash said: "I'm impressed by the works of Chinese young artists, whose standards have been gradually developing side by side with Western contemporary art." As a recommended committee, Xie Suzhen also placed a high expectation on the young artists.
Over the last two years, "Focus on Talents Project" has gained a positive response from all walks of life, and the young artist groups get more attention from the extensive and intensive media campaign, designed for the winner of the "Talent Award", "Artist Studio Project" has built a broad platform for young artists.
For nearly three centuries, Martell, the world-renowned cognac maker, has been closely connected to the art world. Following the awards announcement of "Focus on Talents" in May, the award ceremony of "2013 Martell Artists of the Year" will be held on 16 June at the Today Art Museum, which will provide an extraordinary experience for the true life connoisseur.
Translated by Chen Peihua and edited by Sue/CAFA ART INFO
Related posts: