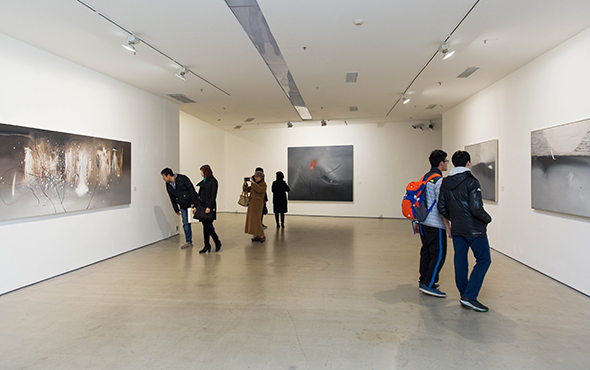 Floating Life under the Flash Light
By Gao Ling
Light is everywhere and quite an essential element in Xu Dongsheng's paintings. Shining phantoms in his earlier works hugged and comforted each other with candlelight in hand to drive out darkness; unidentified luminous object in dust guided these lost and trapped lambs like deity.
Human body and luminous objects which are used to rule the darkness world and deliver divinity and poetry has new change and connotation according to latest works. Dark begins to show its strong power when dust settled, like a cloth covered the white earth.
Phantom swallowed by darkness dust has gradually disappeared and changed into violent jumpy color, light and shade; it is rather the tangible or intangible ghosts existed everywhere than Sylvie who give this effect. Rose or crown of Basquiat they appeared in a flash and presented themselves in this way as this moment while the other way in the other moment, they are not true, just possession by ghosts.
From depicting dead-walking body at the very first, to imagery presentation and refined light and line, Xu Dongsheng has tried his best to pursuit the ultimate form to manifest life, and the essence of life by lonely and dark, deep world. However, visual drawing is not conceptual philosophy; it needs light and shade, color, tone and more importantly, the concrete object with all these elements on it. These tangible or intangible ghosts sometimes float above, sometimes light as wind, sometimes illusory as light, sometimes they just appear alone or in group. Thus, the picture has a quality of rich and vivid, multivariate and dramatic.
This is not only a repeatedly process from numerous to simple, but also a life recognition distillation of life, we are all in a cycle of life and death, just like a dream, body can be destroyed and disappeared, while spirit will not. Dark comes with bright, spirit follows forever and endless. Xu Dongsheng, who presents the truth, struggle and free of the multitude by his exquisite talent, gives us a gamely visual experience to express what is real, meditates as well.
About the exhibition
Opening time: 17 December, 2016 16:00
Duration: 2016.12.17 — 2017.01.03
Location: 2/F Exhibition Hall of Building No.2, Today Art Museum
Courtesy of the artist and Today Art Museum, photo by Zhang Wenzhi, for further information please visit www.todayartmuseum.com.
Related posts: