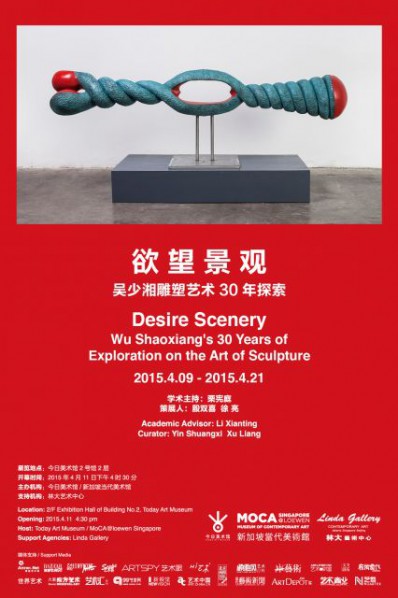 Preface
By Xu Liang
Contemporary sculpture is an important component of Chinese contemporary art. Although the boundary between sculpture and installation art or other art forms has become increasingly blurred, sculpture always has its own distinct characteristics. Since the "85 New Wave Movement" thirty years ago, Chinese contemporary art stands out conspicuously with its special visual strength and artistic language. Being rebellious against and critical of the idea that art should serve politics, "85 New Wave Movement" sends a refreshing breeze to the ideological emancipation. It has a great influence on the enlightenment of Chinese modern art.
During the 1980s, Wu Shaoxiang is the most active and influential sculptor in China. He is the first artist who has the courage to rise in rebellion. With strong visual ignition and explosive mental power, he enlightens the benighted people who live in the apathetic atmosphere in which "ten thousand horses were all muted". His early works, simple and abstract, have brand-new connotations and vitality. During the time when people desire novelty and pursue liberation of mind, he catches people's eye and amazes them with his uniquely designed works and rebellious spirit. His unique sculpture language and the visual impact of his works make him the most representative sculptor in the "85 New Wave Movement". Together with other advanced sculptors, he sets a precedent for modern Chinese sculpture.
"Desire Scenery", as the first research exhibition of the book History of Chinese Contemporary Sculpture, will show Wu Shaoxiang's artistic exploration from 1982 to 2014, especially those remarkable works and historical materials in "85 New Wave Movement". Audience could learn about the basic condition of China's modern sculpture in 1980s, and view Wu's key works of different times after his emigration to Austria in 1990s, thereby get to know Wu Shaoxiang's artistic experience in the past thirty years and see the continuous exploration and innovation of this internationally acclaimed artist. The exhibition is a review of Wu Shaoxiang's personal artistic experience and an individual case study of the development of Chinese contemporary sculpture. Therefore, it will provide us a profound way to look back upon and a vast space to think about the achievement of "85 New Wave Movement" nowadays – thirty years after the movement.
Many thanks to Today Art Museum(Beijing), Singapore Contemporary Art Museum and Linda Gallery(Beijing) for providing us strong support and help. As this year's first important academic exhibition of Today Art Museum(Beijing), it is academically supported by the famous art critics – Li Xianting, curated by Yin Shuangxi, a famous art critics and professor of Central Academy of Fine Arts, and me. We also got support and encouragement from Gao Minglu, Liu Xiaochun, Peng De, Zhu Qingsheng, Wang Mingxian, Feng Boyi, Bao Pao, Lu Hong and etc. during the preparation of this exhibition. Our sincere thanks to all of them.
We hope everybody could, through this exhibition, hear the echo of contemporary sculpture in the corridor of Chinese history, and sense the artistic value and significance of Wu Shaoxiang's sculpture.
About the exhibition
Curators: Yin Shuangxin,Xu Liang
Opening time: 4:30pm. 11 April, 2015
Duration: 2015.04.09 — 2015.04.21
Location: 2nd floor exhibition hall of Building No.2, Today Art Museum
Courtesy of the artist and Today Art Museum, for further information please visit www.todayartmuseum.com.
Related posts: