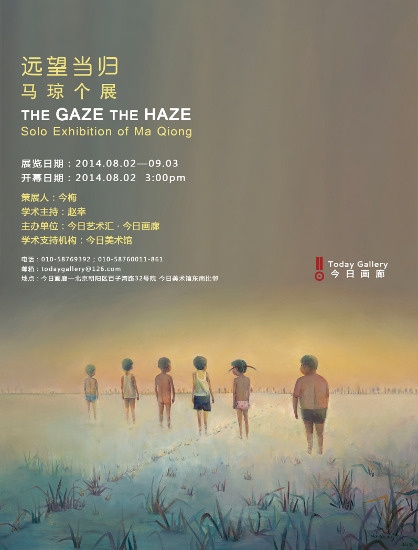 On her way seeking for the sense of belongingness, Ma Qiong's painting loyally traces every single changeof her self-identification and self-positioning. Therefore, her works self-periodize and self-historicize clearly.
When you gaze into the haze, you expect to see what is supposed to be there but see nothing. Then you reconstruct the scene in your mind, but you confuse the real with the virtual. After going through the gaze, there is nothing as expected.
Being adrift for years, Ma Qiong's memories of her hometown in northeast China flash back to her childhood time and experiences. "Distance is not the only thing that sets me apart from my hometown. It's time. Times changes everything including those imprinted in my memories," the artist said in sorrow. Therefore, she tries to catch what is left in her mind until it is further blurred and eventually gone, which forms her artistic language of recent years.
She never documents but reconstructs her memories. This process of reconstruction leads toacartoon-like effect. Ma Qiong's 2012 works take a slightly downward perspective as if she as an adult stands at the door gazing into the room reconstructed by her childhood memories. Comparatively, the 2014 works invite more participation and interaction. Maybe she breaks the boundary between the real and the virtual and walks onto the canvas.
There is no need to organize Ma Qiong's works within chronology in order to discern different styles and their interrelationships. She is always sincere to her contemporary state of mind.
About the exhibition
Duration: 2 Aug – 3 Sep 2014
Venue: Today Gallery
Opening: 2 Aug 2014 Sat 15:00
Curator: Jin Mei
Academic Advisor: Zhao Xing
Organizer: Today Art Galleria · Today Gallery
Academic Partner: Today Art Museum
Courtesy of the artist and Today Gallery.
Related posts: