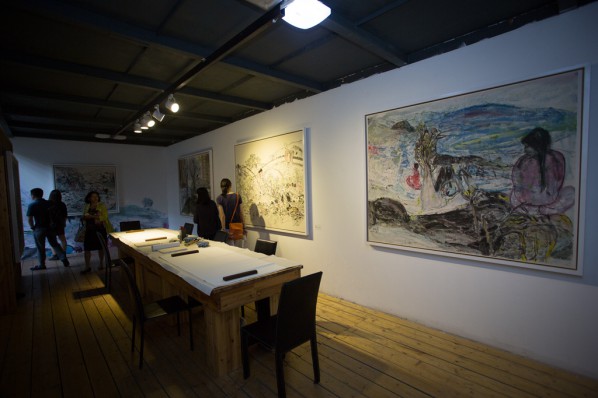 On September 20, 2014, female artist Tongxi Xiaochan's solo exhibition opened at 798 Art Center. The famous artist Xu Bing inscribed the name of the exhibition using new English calligraphy.
The exhibition is entitled "Today I Blossom", diverted from an ancient poem "A Good Thing is Coming," created by Tongxi Xiaochan two years ago.
Today I blossom, too busy to prepare food. Close to the fairy place I hear the sound of kingfishers. Too poor my poetry and painting is to depict the gorgeous fairyland in deep clouds. Share the same moon with night wind and riverbank.
Tongxi Xiaochan graduated from CAFA, with a doctoral degree. She once studied with the famous painter Zhu Jialu and Li Yuzhong, studied Chinese painting starting from traditional Chinese landscape painting and freehand flower painting. During her period of study at CAFA, under the guidance of famous teachers such as Qian Shaowu, Xue Yongnian, Shao Dazhen, Zhang Lichen, Guo Yizong, Tian Liming, Tongxi Xiaochan she further practiced her brushwork, calligraphy and explored the traditional Chinese cultural connotation.
Tongxi Xiaochan is addicted to Buddhism, study the classics of Zen, she is a researcher of Feng Zikai, publishing the "Feng Zikai", "Feng Zikai' Poetry and Painting", "Painting and Poetry — the Art of Feng Zikai", translated and published the German Sinologist Professor Christoph Harbsmeier's book "Socialist Realism with a Buddhist Face: the Cartoonist Feng Zikai".
Tongxi Xiaochan is also an excellent poet. In the early years, she created contemporary poems; while in recent years, she has devoted herself to the creation of archaic poems. Because she was born in Fuding of Fujian Province, the rhyme of archaic poetry is maintained in her hometown dialect, which becomes her unique advantage.
The solo exhibition presents more than 20 selected works created by the artist in the last 10 years, as well as some works of calligraphy and poetry, showcasing the artist so as to combine contemporary poetry and the image of freehand painting to form a style of "unrestrained poetry and painting".
Known for the "focus on both tradition and contemporary" curator Wu Hongliang built a space in line with traditional aesthetics of a Chinese courtyard: with a rhythm, a sense of propriety, together with both the quiet of a private space, and the expanse of a public space. He described Xiaochan in the "Note before the Exhibition" saying that: "Her temperament is diverted from one of the elders, instead of the old and the stale, it is a unique character of Chinese people, a diffusing cultural temperament."
The exhibition will continue to October 11.
About the exhibition
Curator: Wu Hongliang
Host: Beijing 798 Cultural Creative Industry Investment Co., Ltd
Opening Reception: 15:00 on September 20, 2014 (Saturday)
Duration: September 20 – October 11, 2014
Venue: 798 Art Center in 798 Art Creative Plaza, No.4 Jiuxianqiao Road, Chaoyang District
Translated by Chen Peihua and edited by Sue/CAFA ART INFO
Photo by Hu Zhiheng/ CAFA ART INFO
Related posts: