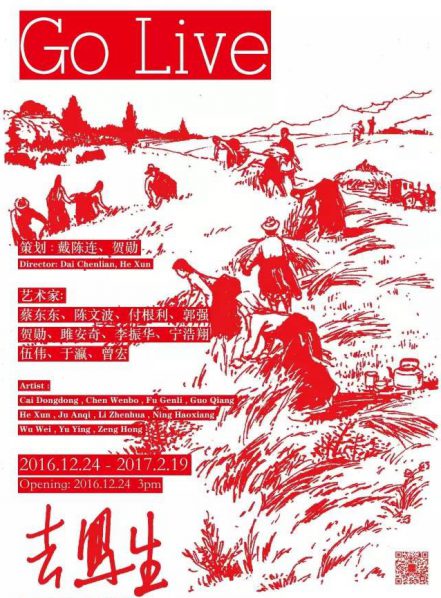 When we read the albums of sketch and watercolor life painting published in 1960s and 1970s, we can easily note that they are characterized by features such as "penetrating into reality", "familiarity with life", "tremendous passion" and "persistence on the materialistic theory of reflection", etc. and we can also easily recognize some fragments of memory and certain representative techniques applied accordingly. When reading that "reality" in the real world, somehow emerges the emotions of separation and overlapping, of unfamiliarity and affection, of understanding and indifference etc. This is the reaction to "reality" and it is a complex psychological experience regarding "depicting reality"—"painting from life". This exhibition attempts to divide "Go Live" into the specific actions to"Go" and "Live". In the sense of linguistic game, it can be understood as departing, going outdoor and conducting the practice of painting from life and it can be an elimination of such practice approach. In this exhibition, they will discuss the former one, i.e. going outdoor, stepping into the field and "painting from lived". Based on this, it is a kind of practice, which contains a process from the experience that we have to bear to the reality (illusion) that we have to confront.
"Go Live" appears to be a corrupt "display of creative work". All we can do is, firstly investigate whether the action of "Go Live" could be a creation or exhibition, and whether the habits, experience, thoughts and ideas will be or should be involved in the process; secondly explore how we should confront the appeals of realistic reform, resistance, communication in the history and the rapidly developing ideas regarding society, economics, information and arts after we have encountered the practical reality and mental reality.
When we read the albums mentioned in the beginning of this article, we can notice that the unified expression, the described pain and enthusiasm are vividly presented on paper. However, nowadays, most people describe or illustrate the figures and colors, structures, semantics, problems and ideas via various media, which are quite close to the images after painting from life, and the integration of information, the touch and reminder of problems are again presented visually and become overlapped realities, some of which are direct and instant, some are obscure and incomprehensive, some are clear and apparent transcending the veil of language, some remain unclear and unrecognized even after venturing the intellectual and inspirational peaks. Based on this context, the exhibition in tends to intrigue the very original naked sensibility through re-igniting the activities of painting from life as well as to ponder about how many on earth habitual techniques, grammatical sophistries and intellectual competitions are contained in the "Lived by What is Seen" and whether it will be "artistic activities"under certain sentiment and whether it will coexist with the updated arts inthe rapid progress rather than just fundamentally armed materials to be admired and referenced to. We are looking forward to a frugal and serenity spot. What we are going to confront, is all our own.
About the exhibition
Director: Dai Chenlian, He Xun
Artists: Cai Dongdong, Chen Wenbo, Fu Genli, Guo Qiang, He Xun, Ju Anqi, Li Zhenhua, Ning Haoxiang, Wu Wei, Yu Ying, Zeng Hong
Duration: 2016.12.24 – 2017.2.19
Opening: 2016.12.24 3:00pm
Venue: Tong Gallery
Courtesy of the artists and Tong Gallery, for further information please visit www.tong-gallery.com.
Related posts: