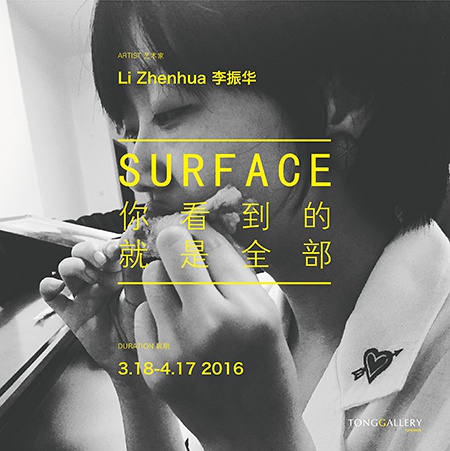 Tong Gallery+Projects is pleased to announce the opening of Surface: Li Zhenhua on March 18th, 2016.
"I would not consider myself a professional artist ; I just want to make some works of art," said Li Zhenhua.
The artist arranges the works in a relaxed but rigorous manner, trying to steer those who have read it to comprehend the logic and imagination behind the surface. Lead them into mediatation; an epiphany through some traces of moving scenes.
"Art, contemporary art is about taste and you have no way to learn it; you can't verify it either, you can just constantly improve it, " said Li Zhenhua.
There are several aesthetic phases in this exhibition: the aesthetic of home-life experience, the aesthetic of interdependence between humanand animal in daily life; They are conveyed through the surface and the material of the image; the viewer doesn't need to dig deep to find the meaning of image. Li Zhenhua hopes that the artistic thinking could remain in the surface of image, thus he seeks to strip out the simplicity from an image and removes the extra decorative aesthetics. Scale, trace, size, any kind of visible information is part of the work, and the image is like an information center, complicated enough to make superfluous the search for additional meaning.
The artist wonders: if there is nothing deeper behind the exhibition, will the viewers definitively understand?
"Art is not about setting obstacles, but fostering mutual understanding and communication. It is kind of warm curiosity between one and another, between human being and objects, " said Li Zhenhua.

With 20 years of curatorial experience, a multi-media artist and also a film producer Li Zhenhua has become involved in Chinese contemporary art through curation and participation in exhibitions. Focusing on the daily living experience of individuals, the relationship between human being and objects, between one and another. He investigates and explores the new narrative relations of new media art in contemporary artistic environments and provides us new perspectives and clues about art.
About the exhibition
Date: 2016.3.18 – 4.17
Opening: 2016.3.18 3:00pm
Venue: Tong Gallery+Projects
Courtesy of the artist and Tong Gallery+Projects, for further information please visit www.tong-gallery.com.
Related posts: