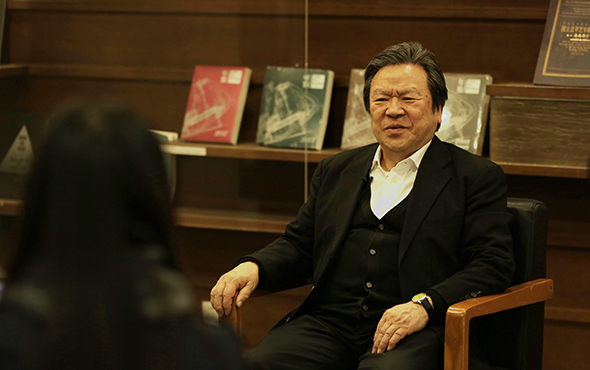 The International Academic Symposium "Chinese Design 40 Years— Experience and Model" is a grand event for the Chinese design community and design education community. A total of 25 famous experts and scholars, both domestic and international, in the design and design education field were invited to attend the conference. The participation of overseas guests introduced a broader perspective for the symposium. As a powerful nation in the design field in Asia, Japan has always exuded a high-quality oriental charm in their design products. The Japanese national treasure designer Toshiyuki Kita who was born in 1942 was invited to participate in the symposium. In addition, he gave a keynote speech entitled "The Tradition and the Future in Design" in the second themed talk of "Culture & Choice". Starting from his personal experience, Kita explained the process and results of drawing inspiration from Japanese traditional culture. Having considered that some of the audience would make a passionate plea for further talks, as the conference had a time constraint, CAFA ART INFO conducted an exclusive interview with Mr. Kita. Let us hear of Kita's understanding of the meaning of design and his way of seeking inspiration. More importantly, he gives some crucial suggestions and considerations for future designers and educators.
Interview time: March 20, 2018
Location: Academic Reporting Room, Central Academy of Fine Arts
Interviewer and author: Zhang Yizhi
Translated by Yao Yue and edited by Sue/CAFA ART INFO
The innate "five sensations" of people and the balance within objects are essential to the creativity. Understanding the wisdom of people's lives in the past and their sense of balance with nature is an important route towards the future.
—Toshiyuki Kita
CAFA ART INFO: Design, as an important force to promote economic and social developments, has made great progress and important contributions in the historical process of Chinese "Reform and Opening up" and the construction of "Socialist Modernization". As a famous designer in Japan, how do you feel when participating in the "China Design 40 Years" symposium? And on a more personal note, what do you think will be the value of having this particular mode in the seminar discussion?
Toshiyuki Kita: First of all, I am very grateful to the organizers of "Chinese Design 40 Years," for inviting me to this event. I also feel very honored and happy to participate in the discussion and to share my thoughts on the theme of the talk. As a Japanese designer, I saw that during the past 40 years, especially during the past two decades, Chinese design had developed very rapidly. Recently, I often visited China and felt great changes in China, even from a foreigner's perspective. It is worthy of commemorating the forty-year development of Chinese design — just like people looking back at the path while they are climbing a mountain and wondering if they are on the right track. Reviewing those experiences on this journey are crucial for the future. In addition, I also learned a lot when listening to other experts' reports and reflecting on what I can adopt from their presentations.
CAFA ART INFO: "To design for the soul" is a concept that you have always advocated. Can you talk to us about the design that is called the "design with soul"?
Toshiyuki Kita: This is my understanding: when a designer is starting a project, he or she will have an idea that they hope the users will like and to be joyful when using it. This is an idea from the perspective of a designer, and then the product will convey this to the customers, the users. Therefore, for me, this kind of design is called "the design with the soul." In another way, for example, when we introduce a design product to the customers and after they buy it and use it at home, they can feel joy when using this product. Then, the customers will recommend this product to their friends and encourage them to use it. In this way, the sales of this product will be better, and it will not only have a promotional value for the company, but also for the entire society.
In the second theme talk "Culture and Choice," Mr. Kita shared his topic on "The Tradition and Future of Design" with his previous industrial design products as examples, and talked about the inspiration behind them which were mostly directed from the Japanese traditional culture, such as the well-known representative work, "Flower" series cutlery, and children's favorite "Monkey Chair," that was inspired by a Japanese Kyushu Island, the so-called "Monkey Mountain." Mr. Kita said that "art can come from an instant moment of inspiration, but design needs a more practical value," because design is directly related to the economic benefits through productions with a social value.
CAFA ART INFO: In your speech, you showed how to create innovative designs by drawing inspiration from Japanese traditional art and culture. Then, besides this approach, where else will you seek inspiration?
Toshiyuki Kita: I think the Japanese traditional art that I just mentioned is only a part of my source of inspiration. Apart from this, nature also offers me a lot of inspiration. Talking with my family and friends is also inspiring and helpful. Besides, I think there are inevitably some elements of luck. Another thing I want to mention is that when I accomplish a job, I feel very pleased and satisfied, though I might have a very painful process in finishing it. And if a work has achieved a good effect, in the end, I will feel profoundly joyful inwardly and outwardly.
CAFA ART INFO: As a mature designer, you already have your own design style. What kind of advice would you give to design education in China? Can you share some experience with us?
Toshiyuki Kita: I think students who learn that designers have their own talent and they know what they are good at. For educators, it is essential to observe the unique sparkling point for each student and to cultivate his/her talented thoughts. And more significantly, a true educator is the one who cares and is close to his/her students. Of course, every educator has his/her own approach, but if an educator can get close to his/her students, ask them what they want to do, this will be the way to help the students discover their strengths and to teach them how to design. This approach is not aimed at a specific topic but is to find out what the students really think in their minds. It is commendable to do this. In other words, if a student does something well, you should commend him/her for doing such a great job. Then, they will be more confident in their strengths. If a student is not doing well, then you must tell them frankly that this is not a good design, and point out the flaws. These processes of praise and encouragement are extremely crucial.
CAFA ART INFO: What do you think of the future trend in Chinese design? Can China find its unique road in the field of design?
Toshiyuki Kita: I think design needs to be discussed in two ways. One is from the aspect of the design industry that it will be full of happiness and dreams and the other is from the perspective of a designer so it becomes a job that brings dreams and happiness into the industry. However, it is not easy to convey those ideas of happiness and dreams, but as long as each designer finds their own way to invest in the "soul" and are genuine, I think it is possible to reap the real joy from the design. As a designer, one can obtain nutrition from many places — nature, travel, books, conversations with people, etc.. Though all aspects of life can bring nourishment to one's souls, as a designer, eventually, it is also essential to have their own design products.
Related posts: