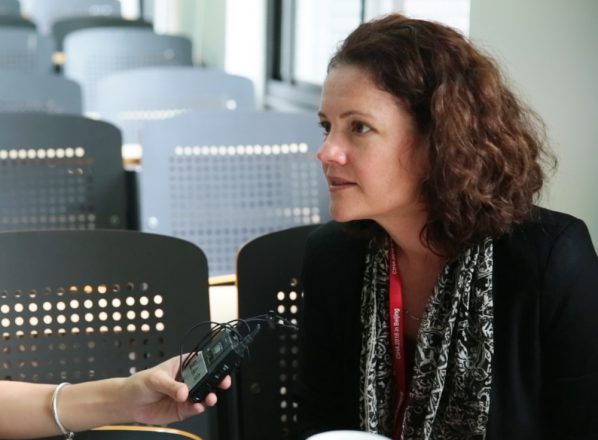 From September 16 to September 20, 2016, the 34th World Conference on Art History was held at the Central Academy of Fine Arts (abbr. CAFA) and Peking University in Beijing. Ms. Sophie McIntyre was invited to co-chair the discussions of Session 6 entitled Politics of Identity: Tradition and Origin. CAFA ART INFO took this opportunity to take an interview with her.
As the theme of the session is Politics of Identity: Tradition and Origin, what do you think of tradition and origin in the context of great China, according to your studies?
Sophie McIntyre: China's cultural traditions have evolved over centuries, and taken new forms of expression. I've actually just curated an exhibition called "Ink Remix", which is looking at China's ink tradition through the eyes of contemporary artists from China, Taiwan and Hong Kong which is currently touring Australia. The exhibition explores how younger contemporary artists in this region are looking back to the past and from they are reinterpreting these traditions in diverse and very contemporary and innovative ways.
According to your understanding, whether there's different perspectives for Chinese and Western art theorists on the issue of origin and and identity?
Sophie McIntyre: I think it's a very difficult question to answer. Of course our histories are very different but there are times when we all look to the past, and to our traditions, which we are reinterpreting in the present. Sometimes to look into our future we need to reflect on our past. Whether it's in global or local, national or individual contexts, at different times we all confront and engage with notions of identity. Identity is not static or singular – it's always in a state of flux and it's pluralistic – and addresses a range of issues, whether political, social, environmental, or gender. With the rise of globalisation and increased mobalisation, identity has become associated with finding a sense of place and belonging in the world.
You just mention an exhibition called "Ink Remix", do you understand the word "remix" especially in the context of the new ink Art and traditional ink paintings?
Sophie McIntyre: That's a really good question, because I think in terms of the exhibition that I've curated, remix is actually probably more important than the ink. The exhibition does not focus on ink as a medium or technique. Rather, it focuses on the idea of the ink tradition in contemporary society – it is as much philosophical as it is artistic. Contemporary artists are sampling images from the past, from the Song or Ming dynasties – from works by the literati masters, such as Dong Qichang or Shi Tao – but they are reinterpreting that imagery in very contemporary ways. The "remix" part of the title alludes to music and the way in which musicians sample music to create new forms, a new language if you like. And I think contemporary artists in this region are also doing that in unique and engaging ways.
Have you ever been inspired by the scholars who attend this forum and what do you expect to hear and learn about China's contemporary art from this conference?
Sophie McIntyre: Well I haven't had a chance to attend so many talks because I arrived on the second day, because the exhibition, "Ink Remix", just opened on Thursday night. Scholars here are addressing a whole range of topics relating to China but also to the world. As the only Australian co-Chair, I feel fortunate and honored to be here and I hope to hear more of the talks and meet with some of the scholars here. I think CIHA offers a fantastic opportunity for scholars from across the world to meet and share knowledge. And I think CIHA organizers here have done an excellent job in organizing such a massive international conference – there's a lot of time and energy involved in organising these events.
About Sophie McIntyre
Sophie McIntyre is a curator, art writer and lecturer with a particular interest in contemporary Asian art. After working for more than seventeen years as an art curator and gallery director, she completed her PhD and her dissertation focuses on the impact of identity politics on artistic and exhibitionary practices during the post-martial law period in Taiwan. Sophie has lived in China and Taiwan and curated several art exhibitions from this region that have toured nationally and internationally. These include Penumbra (2007); Islanded: Contemporary Art from New Zealand, Singapore and Taiwan (2005), Concrete Horizons: Art from China (2004) and Face to Face: Contemporary Art from Taiwan (1999-2000). She has given papers and published extensively on this field in exhibition catalogues, books and journals.

Sophie was employed as a curator and gallery director of two university art museums in Australia and New Zealand, and prior to this time she worked at the Art Gallery of New South Wales and in other public and commercial galleries in Sydney and Brisbane. She has curated numerous exhibitions of Australian, Pacific and Asian art, several of which have toured nationally and internationally.
Transcribed by Miao Yinan and edited by Sue/CAFA ART INFO
Related posts: