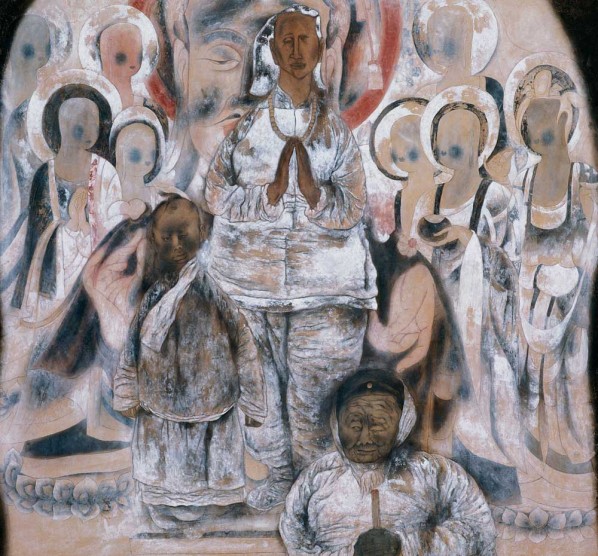 Jointly organized by the Ministry of Culture of the People's Republic of China, the Chinese Literature and Art Association for Promoting Democracy Central Committee, the CPPCC National Committee, Calligraphy and Painting Studio of The National Committee of the Chinese People's Political Consultative Conference, the Chinese Artists Association, the National Art Museum of China and the Central Academy of Fine Arts, this major retrospective of Tang Yongli will be held from June 30th through to July 9th at the three main galleries of the National Art Museum of China.
Mr. Tang Yongli graduated from Hebei Normal University, after some time he taught in the university. He engaged in advanced studies at the Central Academy of Fine Arts in 1982, and was enrolled into Zhejiang Academy of Fine Arts after passing the post-graduate entrance examination in 1985 to major in meticulous brushwork figure painting under the tutorship of Mr. Gu Shengyue. Afterwards, he taught for many years at Zhejiang Academy of Fine Arts and the Central Academy of Fine Arts as a professor, doctoral supervisor, etc. He adheres to improving his expertise and cultural cultivation over the decades of teaching practice and artistic creation; in his artistic practice, he is good at borrowing, bold in innovation, and pays attention to inheriting in expansion and developing in innovation the fine traditions of Chinese culture. This exhibition shows the remarkable achievements and outstanding contribution of professor Tang Yongli in inheritance, innovation and development of Chinese paintings with over 150 pieces of work.
The title of this exhibition has two implications: on the one hand, his surname is "Tang" thus "Recreation of Tang Style" means his continuous development in personal artistic style; on the other hand, Tang Dynasty is one of the most brilliant in the history of China and Tang Yongli has inherited a lot from the style of Tang Dynasty, therefore "Recreation of Tang Style" also denotes that he devotes his work to making a due contribution to the great rejuvenation of Chinese culture along with the development of the new historical period.
The exhibition in the rotunda features Tang's major themed creation, "The Birth of New China" together with over 70 drawings of constitutional portraits and over 30 head portraits he sketched for 63 dramatis personae in this grand painting, which provide a panoramic view of Tang Yong's creating process. East Back and West Back Galleries will feature five main categories of Tang's painting through his art career, they are Art from Dunhuang, Researches and Explorations, Dexterity of Figure Sketches, The Beauty of Human Body, Ink Rhyme and Painting in Poetry.
About the Exhibition
Date: June 30th – July 9th
Venue: The National Art Museum of Art, Hall 1, 8, 9
Courtesy of Tang Yongli and the National Art Museum of Art, for further information please visit www.namoc.org/en/
Related posts: