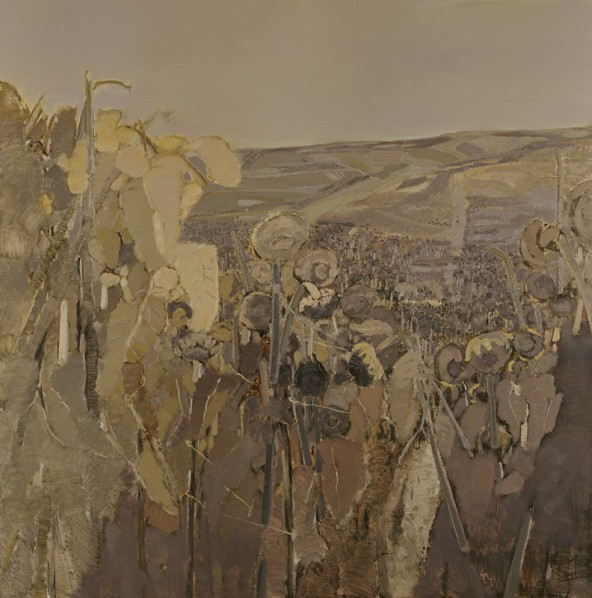 Li Jiangfeng's Exhibition "Transforming Image into Conception" was held at No.4 and No.6 Exhibition Hall of National Art Museum of China at 3:00pm on November 2, 2012. This exhibition features her latest creations, including a scenery creating series (including a nature series, a field of sunflowers series, grand rivers and mountains series), landscape sketchs, still life paintings which altogether amount to about 40 pieces. The opening was presided over by Wang Kun, Executive Editor in Chief of "Chinese Painting" Magazine, guests included Jin Shangyi, Zhan Jianjun and Wen Lipeng, three senior professors from CAFA, Hu Wei, Deputy Director of National Art Museum of China, Wang Mingming, Dean of Beijing Fine Art Academy, Shang Yang, Professor of the Department of Fine Art in Capital Normal University, Shang Hui, Editor in Chief of "Fine Art" magazine, Zhang Zuying, researcher at Chinese National Academy of Arts and Vice Dean and General Secretary of Chinese Academy of Oil Painting affiliated to Chinese National Academy of Arts, and Wan Jie, CEO of Artron(Group) Co., Ltd., etc. Wang Mingming, Wen Lipeng, Wan Jie and Li Jianfeng respectively made their opening speeches.
Li Jiangfeng fearlessly held her first solo exhibition at the National Art Museum of China two decades ago, when she was 23 years old, two decades later, her new artworks were unveiled at the National Art Museum of China again, with a unique style of symbolization of color, together with the pen writing, making her works obtain the features of "Chinese Oil Painting" and cast off the trace of some western styles. Instead of beauty and aesthetic filled as is common with female painters, her paintings are full of masculinity and honesty and generosity. Her work is dignified and full of heavy color, sophisticated lines, and viewing angle and painting style are sui generis, so that she gains the character of freehand and brushwork of Chinese paintings.
The exhibition mainly shows the "big landscape." People are touched by her beautiful breath from her free and vivid brushes, and often fascinated by the dedicated skin texture of her paintings. She has discarded the focus perspective of sketching, as well as moving far from the traditional Chinese cavalier perspectives of landscape paintings, including level perspective, lofty perspective and distance perspective, creating interesting pictures of the combination of mountains from the front to the back, breaking the flat horizon, playing an intertwined and circuitous circling moving melody. From her unique artistic perspective, the audience find themselves placed in the mysterious sky and suddenly in awe of nature. Li Jiangfeng said, "the only thing to express my free flying in the pure land of my mind is in such big landscapes, I like to paint landscape, I love to walk in the landscape, I love to be touched by landscape, and that status."
An important element in her paintings is "sunflowers", which gives us another artistic shock. What she portrayed in the paintings are not just a few sunflowers but vast and dense autumn sunflower fields, standing sturdily on the mountains and flats, hidden by her attachment to her homeland, as the main feature of her landscape paintings. In fact, it reflects her growing memories and collages of her images in her mind. It is the only way to make her landscape paintings beyond the attributes of nature, a metaphor that is themed on her life throughout her generation, and a reflection of life in the wilderness and the related humanistic sense.
Not only landscape paintings but also still life, they seem to be created based on sketching, but far away from the objects. She has got rid of the shackles of the academic school, emphasizing her expressions of perceptual experience, her painting depends on her will and writing depends on her love. She has made the close-range sunflowers painted simply, comfortably, casually, and spectacularly. There's an oriental wisdom of mysticism. Her landscape paintings are clearly in the pursuit of the aesthetic with "the combination of spirit and shape", a principle of traditional Chinese paintings, and even "preferring the spirit to the shape". It is novel to find both a free spirit, and careful and strange arrangement in her paintings. Recently, she has painted a number of field landscapes, from northern sunflowers and esparto to Southern rapeseed flowers, intriguing with her personal grace. Art depends on the original creation, she has found her unique painting language from her special life and understanding, to establish her unique aesthetic value.
The exhibition lasts until December 13, 2012.
Translated by Chen Peihua/ CAFA ART INFO
About the artist
Li Jiangfeng was born in November, 1969, in Chengde, Hebei Province. Currently she is an associate professor, a member of the Chinese Artists Association, a professional painter from the Beijing Fine Art Academy, and lives in Beijing. Recently a number of works participated and won awards in exhibitions overseas, no features are with domestic media, and her works are collected by a number of domestic and international institutions.
Organizer: Beijing Fine Art Academy, Artron (Group) Co., Ltd.Contractors: Artron (Group) Co., Ltd. Taifulongtai Trading Co., Ltd.
Time: December 2-13, 2012
Location: No.4 and 6 Exhibition Hall at National Art Museum of China
Related posts: