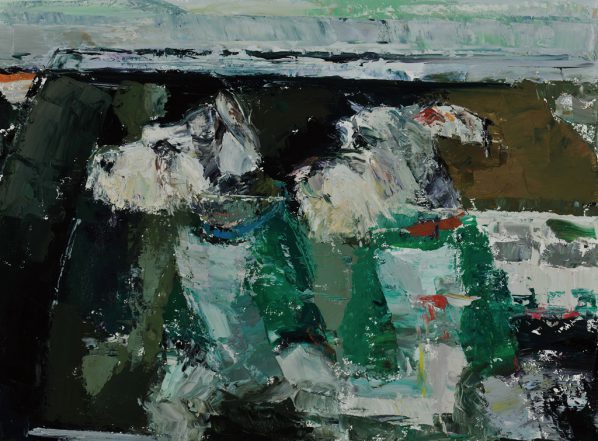 Different from the Western contemporary female artists' straightforward, bold and uninhibited style, contemporary Chinese female artists have their own unique way of depicting women: being warm and gentle, expressing their understanding of life and their own insights into the living environment with an introverted and reserved form. The involvement and thinking on various problems such as women themselves, social norms, the current cultural context, has made a useful and valuable exploration in terms of the women striving for the right of discourse in Chinese contemporary art.
The young female painter Zhou Ting, graduated from CAFA and is one of the outstanding representatives of female artists, she has taught at CAFA since her graduation, while she keeps to her own independent creative space in her spare time, quietly feeling, recording, and performing some corners of the contemporary social processes. She has always remained the connection with the mainstream of the times and the everyday life in her artistic pursuit, while striving to inwardly and outwardly expand her exploration, enjoying contemporary life while she has always remained sober minded and focused on central social issues, whether she chooses to participate in or flee, she has always maintained a certain distance from the main popular Chinese contemporary art trends.
In a series of paintings entitled "The Manners of a Person are Like a Dog's", the painter intervenes into society in a special way, subtly and metaphorically expressing the changes of the relationship between humans and animals in modern society, from gazing on animals Zhou Ting showcases the spiritual life of modern people, to reveal interesting aspects in the survival of modern people. These works emphasize the loneliness of modern city people, who refuse to accept disobedience, but have difficulties in communicating with each other, and the series of "Dog" is an irony representing humans, when we see a dog, it is only a dog's shell, but the true zoological dog has been missed. Because of the obedient natural instinct of dogs, people love dogs. Seen from the perspective of mutual transposition, what kind of deep thinking will "The Manners of a Person are Like the Dog's Ones" series of works bring us? I am afraid that everyone has his/her own answer.
Zhou Ting depicts daily scenes to express her emotional comprehension, it is the description of memories, on this account to explore the impact of the inner emotional changes on individual creation, "The Flavor of Memories" series of works are themed on the street scenery as seen by people through the car's windshield on a rainy day, and it is also an exploration and trial to blur, change and process real images. The shuttling pedestrians, motor vehicles, and the special individual psychological experience triggered in this circumstance, are conveyed by the language of oil painting that emphasizes painting and an imaginary expression. The refracted images seen through glass windows in a rainy day are different from the usual sights we see and it is ambiguous, alienated, psychedelic and even intermittent, these images have broken our inherent images of everyday street scenes on some level. The colorful perceptual screen and rational abstract contents are harmoniously united in the works.
The perception of life, depicting of memories and internal emotional changes and association are all included in the abundant expression of the work, so as to explore the meaning and value of the abstract expressionism painting in contemporary Chinese art. "The Flavor of Memories" series of works is selectedby the 2016 National Arts Foundation Rolling Funded Projects.
About the Artist
Zhou Ting studied at the High School Affiliated to CAFA from 1996 to 2000, studied at the Department of Oil Painting, CAFA from 2001 to 2005, received a bachelor's degree and studied at the Department of Oil Painting, CAFA from 2006 to 2009, received a master's degree and became a lecturer of CAFA after graduation.
About the Exhibition
Opening Time: at 15:00 on June 4, 2016
Exhibition Time: June 4 – June 28, 2016
Venue: Xin Beijing Station
Address: E05 Ceramic Third Street, 798 Art Zone, Jiuxianqiao Road, Chaoyang District, Beijing
Photo and text by Xin Beijing Station, translated by Chen Peihua and edited by Sue/CAFA ART INFO.
Related posts: