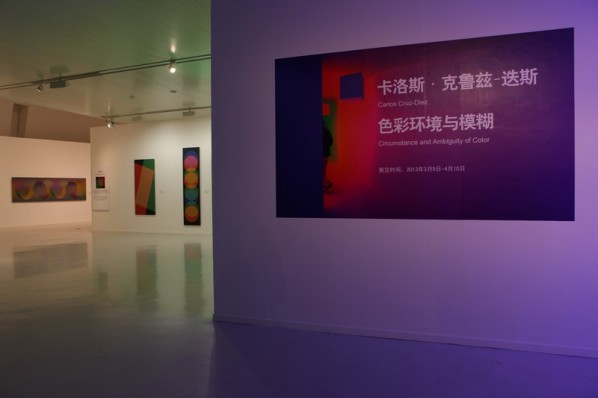 "Carlos Cruz-Diez: Circumstance and Ambiguity of Color" was inaugurated on March 9, 2012 at the CAFA ART Museum. Sponsored by Cruz-Diez Foundation, the China Youth Publishing House, French ZBL Art Book Copyright Company, it was jointly organized by the Art Museum of the Central Academy of Fine Arts. At the first stage of its campus tour, the exhibition will remain on view at CAFA Art Museum until April 10.
Sylvie-Agnès BERMANN, L'Ambassadeur of French Embassy in China made a speech at the very beginning and she told the audience that Carlos Cruz-Diez is quite a mature artist who has held many large-scale exhibitions in China. It's a good thing that a great artist now meets a world-class art museum. Also she hoped that this would inspire the audience to think about some thought-provoking questions through Carlos' work exploring the variety of color changes and how the colors contact with space.
Prof. Xu Bing addressed that Mr. Carlos Cruz-Diez was one of the greatest researchers and thinkers on art in the world and he is unwilling to stop his practices. He has a rigorous attitude that is like a scientist but rarely seen in an artist. He devotes his whole life to painting, installation, architecture and other fields continually challenging the accustomed thinking on colors to change the way people think of colors. Persistently, he proved to us that color itself keeps evolving in an independent way. Being the most historical art academies in China, the Central Academy of Fine Arts embraced all the beneficial nutrients at home and abroad with an open mind and tolerant attitude. We are looking forward to actively exploring new thinking and trends in the fields of art theory and related practices worldwide. Xu expressed that he was pleased that Mr. Carlos Cruz-Diez would like to present his unique thinking in the field of color to the faculty members and students at CAFA as well as all art lovers.
Mr. Carlos Cruz-Diez told the press and audience that he was in his nineties and it would not be easy for him to come here again. He hoped that this exhibition would bring different feelings to the audience and they would have a further understanding of color research by other means.
Nicole Schindler, Chief Executive Officer of the Cruz-Diez Foundation said that the foundation could successfully fulfill its mission through the exhibits and dissemination of artistic heritage of Carlos Cruz-Diez with the new generation including art students. Today nearly 90-year-old Carlos still contributes to the diversification of various international projects including those in Paris, New York, Sao Paulo, Brazil…He has won numerous awards such as the highest honor of Literature and Art in France. Last year Carlos received the badge of the French Legion of Honor. She emphasized that this exhibition specially selected summary works by Carlos and she hoped that the audience could visit the exhibition personally and experience how the colors were rendered and erased.
Various works selected from the artist's oeuvre are on display, amongst others, a Chromosaturation, where the visitor enters an environment consisting of colored chambers, where he is submerged in an absolute charomatic situation, and perceives and feels color as something physical in space without the help of shape and without any support. The public will also be able to enjoy the Chromointerferent Environment, a projection of lines and colored frames that when moving produces an unexpected and nonexistent spectrum of colors in the room, to the viewer's surprise. The visitors will also be showered by color in the Showers of Chromatic Induction, modules that transform the surrounding reality when perceiving the complementary colors of the one that encircles them. Artworks printed on paper will also complement the exhibit, like the Chromatic Inductions, related to the phenomena of post-image in the retina.
Considered one of the major exponents of contemporary art in our time, Carlos Cruz-Diez (Caracas, 1923) has lived and worked in Paris since 1960. His artistic roots reach back to the Movimiento Cinético [Kinetic Movement] of the 1950s and 1960s. As his thinking on the visual arts has evolved, his ideas have changed attitudes on how color is perceived in art. According to his artist's statement, color is an autonomous reality, devoid of anecdotes, that evolves in real time and space with no need of form or support. Carlos Cruz-Diez's artistic proposal is based on eight research projects that reveal the myriad ways in which color behaves: Couleur Additive [Additive Color], Physichromie, Induction Chromatique [Chromatic Induction], Chromointerférence, Transchromie, Chromosaturation, Chromoscope, and Couleur dans l'espace [Color in Space].
His roots go back to the Kinetic Movement of the 1950s and 1960s. He describes his enquiries and proposals as "Arte del Movimiento y Espacio Reales" [Art of Real Movement and Space]. His visual art has expanded the accepted idea of color, showing that perception of a chromatic phenomenon does not rely on form. Cruz-Diez explored color in 8 series: "Couleur Additive" [Additive Color], "Physichromie", "Induction Chromatique" [Chromatic Induction], "Chromointerférence", "Transchromie", "Chromosaturation", "Chromoscope", and "Couleur dans l'espace" [Color in Space]. Each one takes a different approach to how color behaves.
His work shows that when color interacts with the viewer it becomes an autonomous reality that can be launched into space, sans anecdotes or symbols, evolving on its own with no need of form or even support.
He describes himself as an artist who is also a researcher: "There is nothing random about my work; everything is thought out, programmed, and coded. Freedom and emotions are only involved when combining colors, a task that is required to live up to a particular standard: it must do a good job of expressing what I am trying to say. It is a blending of reason and the emotions. I do not get inspired; I think."
His works are part of the permanent collections at institutions such as: Museum of Modern Art, New York; Tate Modern, London; Centre Georges Pompidou, Paris; Museum of Fine Arts, Houston; Wallraf-Richartz Museum, Cologne; Musée d'Art Moderne de la Ville de Paris.
The following are a few of his solo and group exhibitions:"Bewogen Beweging", Stedelijk Museum, Amsterdam, Netherlands (1961)"Mouvement 2″, Galerie Denise René, Paris, France (1964)"The Responsive Eye", Museum of Modern Art, New York, United States (1965)"Lumière et Mouvement", Musée d'Art Moderne de la Ville de Paris, France (1967)"Cruz-Diez: Cinq propositions sur la couleur" and "Multiples", Galerie Denise René, Paris, France (1969)"Pavellón venezolano en la XXXV Biennale di Venezia", Venice, Italy (1970)"Carlos Cruz-Diez: Die Autonomie der Farbe" [The Anatomy of Color], Josef Albers Museum, Bottrop,Germany (1988)"Une Tour Eiffel haute en couleurs" A, Centre Georges Pompidou, Paris, France (2003)"Inverted Utopias: Avant-Garde Art in Latin America", Museum of Fine Arts, Houston, Texas, United States (2004)"Lo(s) Cinético(s)" [The Kinetic(s)], Museo Nacional Centro de Arte Reina Sofía, Madrid, Spain (2007)"(In)Formed by Color: Carlos Cruz-Diez", The Americas Society, New York, United States (2008)"El Color Sucede" [Color Happens], Museu d'Art Espanyol Contemporani, Palma de Mallorca,Spain (2009); Museo de Arte Abstracto Español, Cuenca, Spain (2009)"Carlos Cruz Diez: The Embodied Experience of Color", Miami Art Museum, United States (2010)"Suprasensorial Experiments in Light, Color, and Space", The Museum of Contemporary Art, Los Angeles, United States (2010); Hirshhorn Museum, Washington DC, United States (2012)"Carlos Cruz-Diez: Color in Space and Time", Museum of Fine Arts, Houston, United States (2011)"Carlos Cruz-Diez: El color en el espacio y en el tiempo", Museo de Arte Latinoamericano (MALBA – Fundación Constantini), Buenos Aires, Argentina (2011)"Cruz-Diez: Color in Space", Jeonbuk Province Art Museum, Jeonbuk, South Korea (2012)"Carlos Cruz-Diez: Circumstance and Ambiguity of Color", Jiangsu Provincial Art Museum, Ninjing, China (2012)"Carlos Cruz-Diez: A cor no espaço e no tempo", Pinacoteca do estado, São Paulo, Brazil (2012)
Photo by Dong Huiping and Quan Jin/CAFA Art Museum
For further information please visit www.cruz-diez.com or www.cruz-diezfoundation.org.
Related posts: