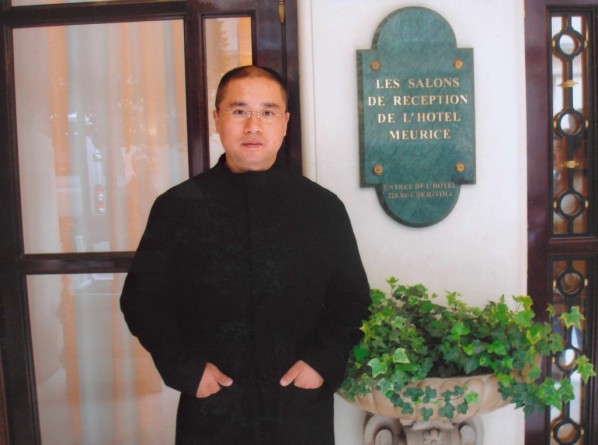 Preface by Yue Jieqiong
Wang Yingsheng creates ink characters on gold foil paperboard which embodies a cultural self-confidence and tolerance, and is the essence and enrichment of the creative thinking and feeling, so that although small they are very meaningful. He is known in art circles as having anelaborate style in figure painting "People Playing Cuju (a kind of ancient Chinese football) in the Tang Dynasty" in 1980, and using concise lines to outline the images of the scholars of the Republic of China, creating the"University" series works, which showcases a profound plastic capability of line work. Work "Pacing" from the two dimensions of time and space to explore the profound truth and secret of human civilization and desire to experience it. In recent years, Wang Yingsheng combined the tradition of Han and Tang Dynasties with his creation of several monumental works of mural painting, to revive the extinction and continue the tradition.
About the Artist
Wang Yingsheng was born in Shenqiu, Henan Province in 1963. Currently he is the professor of CAFA, master instructor, deputy director of the Department of Mural Painting, a member of the China Artists Association, member of the Mural Painting Art Council, China Artists Association. From 2003 to 2004, he was chosen as a visiting scholar to go to Repin Academy of Fine Arts in St. Petersburg, Russia by the national foundation. His works attended the 6th, 7th, 8th, 9th, 10th, 11th National Art Exhibitions and won several awards; works attended Shenzhen International Ink Painting Biennale; Extension of Ink – Portrait Exhibition of Chinese Painting; the first and 2nd Truth Color of Ink Exhibitions; Chinese National Academy of Arts 2001 Nomination Exhibition of Chinese Painting; the First Beijing International Art Biennale; Wang Zan, Zhou Jingxin, Zhang Jiangzhou, Wang Yingsheng Group Exhibition of Figure Painting; the First and 2nd National Mural Painting Exhibitions. In 2005, he was awarded the honor title "Artist of Excellent Morality and Art".
His publications include "Enter a Painter – Wang Yingsheng Works Album", "The 1960s – Wang Yingsheng Works Album" and a variety of collections.
About the exhibition
Title: Traveling • Lifelike – Wang Yingsheng's Special Exhibition of Ink Figure with Gold Foil Paperboard
Curator: Yue Jieqiong
Hosts: Beijing Song Ya Feng Culture Media Limited Liability Company
China Power Media Group Co., LTD
Organizers: Song Ya Feng Culture Art Center
www.artnews.cn
Duration: April 30 – May 11, 2014
Venue: Song Ya Feng Culture Art Center
Address: Building No.305 of Lizexiyuan, Wangjing, Chaoyang, Beijing
Courtesy of the artist, translated by Chen Peihua and edited by Sue/CAFA ART INFO.
Related posts: