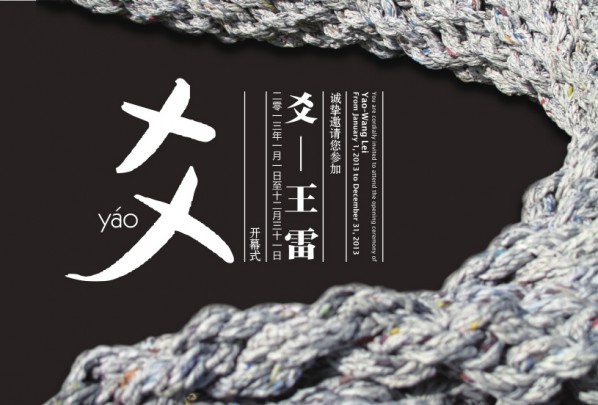 Trigrams, a Chinese character which combines pictograph and imagine, past and future, is said to have many origins. One is to keep records by tying knots, which can be taken as the oldest way of keeping a record of events. The Book of Changes, a famous Chinese ancient work, explains that "the way of nature will change, which is called trigrams." Thus, trigrams has gradually become a way for Chinese to understand the world and grasp destiny.
The exhibited works of Wang Lei starts from knitting, the knitting clothes and hats by twisted Vinda toilet paper string, a wordless book compiled from word-ocean dictionary. In process of complicated knitting and compilation, Wang Lei is pondering what is profound and what is shocking in calmness.
From January 1 to December 31, 2013, Wang Lei subscribed several newspapers and did deconstruct-reconstruct conversion to times and events of these newspaper in his individualized tying language. By way of tying, he shows his interpretation to realities that have just turned to history. The intricate contents in newspapers tangle with the simple form of Wang's works, which will stimulate multi-dimensional thinking and desire of expression of the viewers.
About the exhibition
Dates: 2014-05-28 To 2014-06-09
Venue: Hall 5, the National Art Museum of China
Courtesy of the artist and the National Art Museum of China, for further information please visit www.namoc.org.
Related posts: