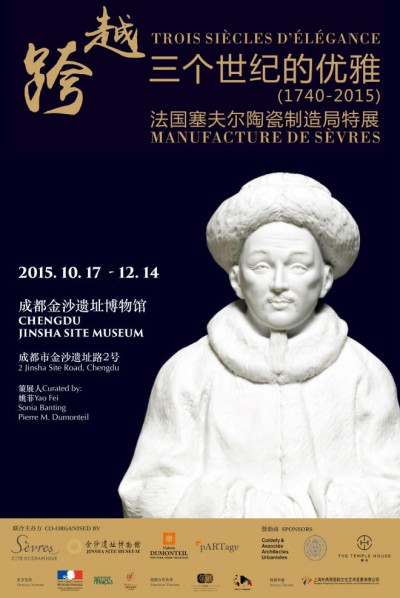 The Jinsha Site Museum is presenting a major exhibition "Trois siècles d'élégance (1740-2015)" from October 18 to December 17, 2015. Through the exhibition, visitors will discover the extraordinary history of the manufactory and the artistic quality and work methods of Manufacture de Sèvres. An extensive outreach programs such as public guided tours and clay workshops will be offered to bring the visitors closer to one of the world's most exquisite artistry. The exhibition introduces the development of style, form and colour, and highlights the manufactory's celebrated tradition of using decorative techniques such as biscuit white and royal blue.
Since the 18th century, the quest for perfection in ceramic manufacture has seduced royalty, aristocrats and connoisseurs all over the world, including dignitaries such as the Emperors of Qing China. Meticulous quality has always been the guiding principle of the Manufacture Nationale de Sèvres in relation to its selection of artists and contemporary works.
A successor of the Vincennes porcelain manufactory, the factory at Sèvres, located near Versailles, has been making both soft- and hard-paste porcelain since 1756. First patronised by King Louis XV, his courtiers and, especially, his mistress Madame de Pompadour, Sèvres became a leader in fashionable artistic ceramics and a luxury trademark at the Versailles and Louvre palaces.
With more than 100 pieces, this exhibition exemplifies the remarkable artistry of the Sèvres manufactory and showcases finely made porcelain designed by some of the leading artists of their day. The painter François Boucher (1703–1770) and the sculptor Étienne-Maurice Falconet (1716–1791), who directed Sèvres' modelling atelier between 1757 and 1766, became involved in the enterprise during the ancien régime, and multiple generations of talented designers and artistic directors have contributed to the manufactory's prestige.
Image Courtesy of the Jinsha Site Museum.
Related posts: