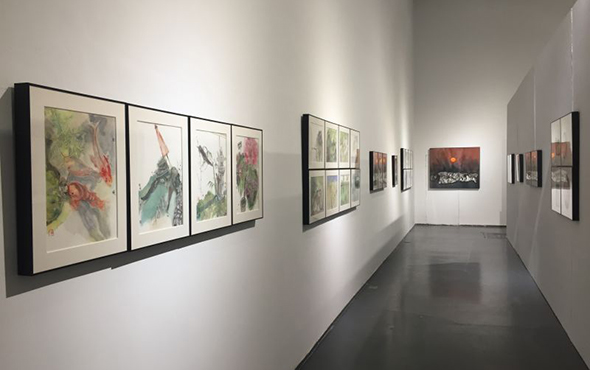 Liang Xi's first solo exhibition entitled "Notes on a Walking Song" was held at SZ Art Center of the 798 Art Zone on the afternoon of 28 April 2018. The exhibition was planned by Deputy Editor-in-Chief of "Art" magazine and an art critic, Sheng Wei, and it presents more than 60 watercolor and ink and wash paintings, which were created by the artist over the last two years. These works are closely connected with her life experience, and this show also reveals that the works, the artist and her experience are closely connected. The exhibition started with two sides of the artist Liang Xi, it presents two types of works including: the large-scale works with strong expressionistic features, and the small dainty paintings which are like monologues from a diary. Although they are of a different form, they both echo each other and show a unique perspective of the woman artist's observation of life and the direct expression of her real perception.
Born in Chengdu China, Liang Xi is a free artist. She graduated from the Department of Design, Sichuan Fine Arts Institute, and completed an advanced study course at the Department of Mural Painting, CAFA. The artist states that she loves nature, travels, music and the movies. Liang Xi's artworks are the externalizations of the artist herself, the works are as unrestricted and sincere as the artist. The exhibition is charming and is naturally accepted by people. As a professor from the School of Chinese Painting, Liu Qinghe, made a comment on her works and said "The wonderful thing about these new works by Liang Xi is the simplicity."
It has been nearly ten years since she formally started learning painting under the guidance of a teacher. She believes in "the pursuit of purity and untargeted nature." As the curator Sheng Wei said, "Liang Xi is not an amateur painter as she received a systematic education and has her own ideas about modeling, but she is not a professional painter yet as she has not been painting for a long time and does not make a living from painting within the traditional or contemporary art systems. Even so, Liang Xi's works which were created recently are attractive. Perhaps, it is because she is neither an amateur nor a professional, "her painting is a real portrait of her life and living circumstances; she doesn't really consider artistic rules, modeling techniques, or other conventions. She doesn't need to consider the art market or the exhibition system, or integrate herself with anyone. She acts as she pleases and paints for herself."
Art has been closely associated with her life. Liang Xi said that her entire personal perception and experience was precisely and fully expressed in her paintings. The time, the loneliness and helplessness of life, physical pain, social responsibility and understanding of life are the origins that inspire Liang Xi. Women are inherently sensitive. Liang Xi was once seriously ill and it also gave her an opportunity to think about life again. "Death's Wound", "Who Isn't Living for Death", and "The Storm of Life is Finally About to End" are appropriately about the self. This part is a reference to her experience: the wild and blooming life – it is entirely unvarnished and free, a revealing of the true emotions.
As a woman artist, Liang Xi has constantly encountered conflict and challenges when she is feeling and expressing her mind and she then repeatedly ponders and adjusts the state of her mind. Liang Xi has never stopped studying and capturing her inner heart. The temperament of "true" is a divine gift to all female artists, and it is also the most unpredictable and fascinating part.
On the left of the exhibition hall the series of "Neon Pictures" is presented which is created by Liang Xi during her stay in Japan from 2013 to 2018, and she has mainly portrayed the small objects which are often ignored within her visual diary. A book, a cup of tea, a bowl, a piece of tofu … Liang Xi has always loved the traditional Oriental culture, and is obsessed with the way of life in Japan and she has recorded her feelings with a diary entitled "even life should become art" during her stay in Japan. When a renowned scholar engaged in the studies of Chinese female art Tao Yongbai saw the "Neon Pictures", she stated frankly that "she does not pursue integrity which is an obvious characteristic of Liang Xi's paintings."
A small seminar was held before the opening ceremony of the exhibition, a professor of the School of Chinese Painting, Liu Qinghe, Editor-in-Chief of Art Research, Yin Shuangxi, and Deputy Director of CAFA Art Museum, Wang Chunchen, Associate Researcher of the Institute of Fine Arts of CAFA and a critic, Liu Libin, curator Jia Fangzhou, a researcher of National Art Museum of China, Xu Hong, a renowned scholar engaged in the studies of Chinese female art Tao Yongbai, and Associate Professor of Beijing Institute of Technology, Duan Jun, all participated in the discussion, and Sheng Wei hosted the seminar. Following the start of the show, the attendees discussed the original intention of creation, artistic expression, and then had a discussion on female artists, the expression of life experience, etc. Liang Xi expressed her gratitude to the researchers and she said that "for me, painting is a dialogue with my soul, a process of learning and growth." "Notes on a Walking Song" is a show that collectively presents all her works, and it also encourages the artist to insist on creation in the future.
It seems that both the abstract expression and exquisite visual images are extremely different, but it implies a homogenous thing-in-self. She has courage and enthusiasm for life, and the positive state of life is the soul of her works which also belongs to her "evidence of life". This exhibition continues to 10 May.
Text by Zhang Yizhi, translated by Chen Peihua and edited by Sue/CAFA ART INFO
Photo by the organizer
Related posts: