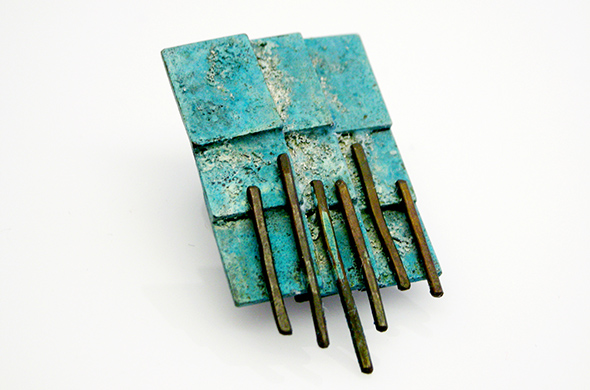 Ubi Gallery presents 6 young Asian jewellery artists to the public in a new exposition called HIT HOME. These jewellery artists found their own answers to questions about living, moving and urban community. They reflect on issues about feeling at home in public space; about rigid cultural patterns; about rapid change in networks and more.
Mariko Sumioka is from Japan and had her education in Schotland, Japan and the United States. 2012 was a very productive year for her with many exhibitions around the globe. Mariko Sumioka feels inspired by the Japanese unique architectural characteristics; the linear forms and the natural materials and colours. By using patinated copper and enamel, and working with different layers of material, she is able to create the natural materials and textures found in architecture. The fact that people live in buildings and connect with the environment and the construction in a very personal way, is something the artist explores in her own pieces. This interaction is also found in people wearing and others viewing her jewellery. Both are similarly intimate.
Hyeju Nam is a young talented artist from Korea. She first studied fine art in the USA and finished her metalwork and jewellery education in Seoul. New construction and developments of cities in the world amaze her. Hyeju Nam tries to bring the beauty of the underlying and most of the time invisible structure, tools and material closer to us, without being too romantic about it. She makes small pipes, concrete items and brass fittings – she shapes it, colours it and constructs it into a small and wearable installation. Hyeju Nam makes the underlying structure, tools and material of buildings visible in her brooches of small pipes, concrete items and brass fittings.
Alice Bo-Wen Chang is a designer who is trained as an architect in Taiwan and in the USA. She also studied jewellery designing in England. Currently Alice is head of the AIVA department for jewellery in Shanghai. Alice's work is playful; it's an experiment with different metals, plastic and techniques and craft skills. Notice the influence of architectural elements in her work. It reminds us of squares, floor plans, structures and patterns in the urban space. She uses the body as a virtual landscape, which she explores like an architect, positioning her jewellery as valuable elements in this lively environment.
Zhao Xiaomu had her jewellery education at CAFA Beijing. She recently started her own jewellery brand called Larmo Studio. Zhao grew up in a traditional Beijing setting, in a hutong, surrounded by family and extended family members. As an adult she adjusted to the contemporary housing setting and now evaluated her own upbringing in her work. To her the house itself reflects the vivid memories of her family and their connection and interaction. For the installation presented in Ubi Gallery Zhao went back to her roots and collected very basis household material, common in the 80's, but almost no where to be found anymore. The hutongs, the families, the material – all have been vanishing over time. With the household items and materials she builds little houses and records the lives of Chinese urban families of the 80's and her own specific family.
Sun Jie is a contemporary jewellery designer from China, living and working in Amsterdam. He finished his jewellery education at CAFA Beijing and got his master degree at Rietveld Academy in Amsterdam. Sun Jie lectured in the Netherlands and in Hong Kong. His works has been collected by Museums and exhibited in many international design events from Amsterdam, Rotterdam, London, Berlin, Munich to New York. In Ubi Gallery the works of 3 different series of Sun are exhibited. All are made with the same material, airplane wood. This gives the artist a high flexibility to construct small sculptures that are very light and wearable. Everyting is made with the biggest precision and the play with colors and the construction of various shapes makes his work very attractive.
Carissa Hsu is a young designer from Taiwan, who had her professional education in Italy (Alchimia). She exhibited her work in several locations in Europe – Italy, Germany, Spain and the Netherlands. Many things in life are simple to understand through numbers and measurements, and many choices are made based on these numbers. But how to measure emotions? Clarisse is seeking to objectify the impossible. By embroidering moments of life on textile and finding means of quantifying emotions, she depicts human relationships through established methods of measurements. Her brooches are not only beautiful but visualize a deeper thought on the importance of how we make decisions in life.
About the exhibition
Duration: February 2 – March 2 | 11:30-18:30
Venue: Ubi Gallery
Address: 9 Zhujia Hutong, Dashilar, Xicheng District, 100051 Beijing, P.R. China
Courtesy of the artists and Ubi Gallery, for further information please contact info@ubigallery.com or visit www.ubigallery.com.
Related posts: