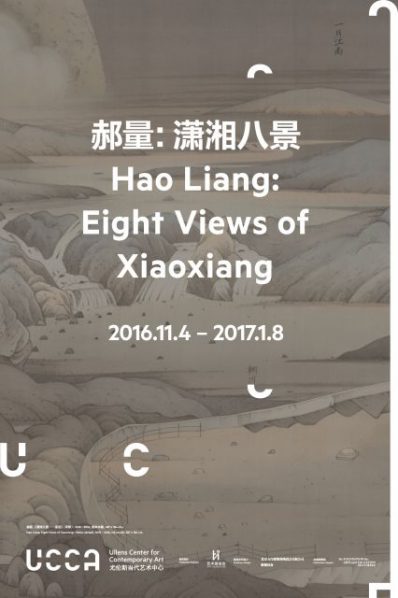 Hao Liang (b. 1983, Chengdu) engages contemporary themes through expansive compositions in his practiced style. His painting, generally in ink on silk, is based on research into the literature, aesthetics, and scholarship of Chinese antiquity, seeking to revive a genre and its material artistry, and imbue it with a modern sensibility. This exhibition showcases a new cycle of works that takes on the time-honored subject of Eight Views of Xiaoxiang. Offering an allegorically rich structure of eight vistas of Dongting Lake, located between modern-day Hunan and Hubei provinces, the genre has been a favorite among artists and poets since the Song Dynasty, including Dong Yuan (934-962 CE), Mu Xi (d. 1281 CE), and Wen Zhengming (1470-1559 CE). Hao Liang depicts this charged subject in eight large (387 x 184 cm) compositions, using each image to explore the dramatic sublime of China's contemporary ecological landscape.
About the artist
Hao Liang (b. 1983, Chengdu) graduated with a BA in Fine Arts from the Chinese painting department of Sichuan Fine Arts Institute and currently works and lives in Beijing. His recent solo exhibitions include: "Hao Liang: The Virtuous Being" (Mirrored Gardens, Guangzhou, 2016) and "Secluded and Infinite Places: Hao Liang Solo Exhibition" (Hive Center for Contemporary Art, Beijing, 2014). Recent group exhibitions featuring his work include "Mountain Sites: Views of Laoshan" (Sifang Art Museum, Nanjing, 2016); "Bentu: Chinese artists at a time of turbulence and transformation" (Fondation Louis Vuitton, Paris, 2016); "From the Peony Pavilion" (Suzhou Jinji Lake Art Museum, Suzhou, 2016); "Luo Zhongli Scholarship 10th Anniversary Retrospective Exhibition" (Luo Zhongli Museum, Chongqing, 2015); "Editing the Spectacle: The Individual and Working Methods Post-Mediatization" (Hive Center for Contemporary Art, Beijing, 2015); "The Garden of Forking Paths—Tracks and Intersections of 15 Artists" (Shanghai Gallery, 2015); "The Fictitious Present" (Art Museum of China Academy of Art, Hangzhou, 2015).
About the exhibition
Dates: Nov 4, 2016 – Jan 8, 2017
Opening: Nov 3, 2016, Thursday
Venue: Ullens Center for Contemporary Art
Courtesy of the artist and Ullens Center for Contemporary Art, for further information please visit http://ucca.org.cn.
Related posts: