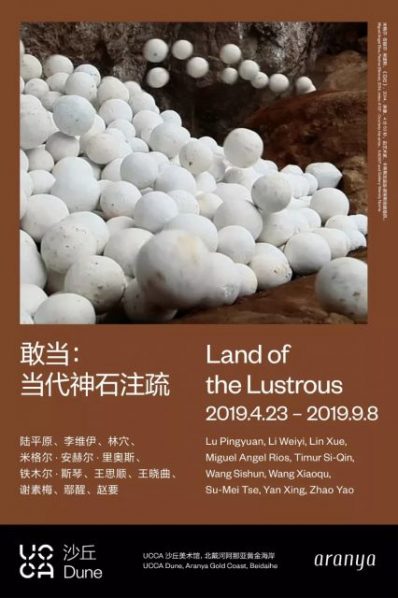 The summer exhibition at UCCA's seaside venue in Beidaihe, "Land of the Lustrous" aims to reignite viewers' dormant cultural memories. The most ordinary of objects, stone has nevertheless enjoyed pride of place in the founding myths of numerous civilizations. In subsequent folklore, its roles have continuously changed, adapting to the particular cultural and social realities of each era. Stone can serve as a tablet for scripture, the birthplace of a deity, a protective talisman for the body, and a site for the gaze to fix itself. Each artwork in this exhibition relates—materially or formally—to the figure of the stone, approaching this age-old object with fresh perspectives. The exhibition, curated by Yang Zi, gives artists the chance to add new chapters to an old parable, contributing to a story both rich and fascinating.
About the exhibition
Curator: Yang Zi
Dates: 2019.4.23 – 2019.9.8
Venue: UCCA Dune, Aranya Gold Coast
Participating Artists: Lu Pingyuan, Li Weiyi, Lin Xue, Timur Si-Qin, Wang Sishun, Wang Xiaoqu, Su-Mei Tse, Yan Xing, Zhao Yao
Courtesy of the artists and UCCA, for further information please visit http://ucca.org.cn/en.
Related posts: