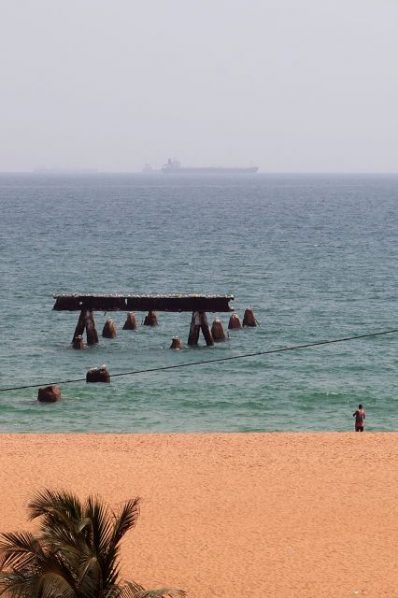 Musquiqui Chihying is apt at deploying different media including film, photography, and installation to explore the relationships formed by people and objects with public space, as well as the changes that capital has wrought on human life. In recent work he has used historical research to unearth the postcolonial and post-immigrant elements buried in Japanese, Korean and Taiwanese popular culture, using this perspective to investigate contemporary global society. His newest work starts from a group of wooden sculptures shipped from Africa to the institution now known as the National Museum of China during its reconstruction in the years leading up to 2011, combining film and installation art to examine the evolution of economic and cultural exchange between Asia and Africa as the non-aligned ideals of the 1955 Bandung Conference have yielded to a new Sinocentric order.
About the artist
Musquiqui Chihying (b. 1985, Taipei,China, lives and works in Taipei and Berlin) is a graduate of Berlin University of the Arts. Solo exhibitions include "Resistance is Futile" (Gallery 456, New York, 2017); and "Modern Life is Dull" (NON Berlin, 2016). He has participated in group exhibitions such as "Through the Looking-Screen" (Gallery 175, Seoul, 2015); "Boys and Their Toys" (Kunstraum Kreuzberg / Bethanien, Berlin, 2015); "Place an Image / Place in Image" (Museum für Fotografie, Berlin, 2014); "Modifications" (ZK/U Center For Art and Urbanistics, Berlin, 2013); and "Book-Like Objects" (tamtamART, Berlin, 2012). His work has appeared at the 2016 Taipei Biennial (Taipei Fine Arts Museum, Taipei, 2016) and the 10th Shanghai Biennale (Power Station of Art, Shanghai, 2014).
About the exhibition
Dates: 2018.8.25 – 2018.10.28
Venue: Ullens Center for Contemporary Art
Courtesy of the artist and Ullens Center for Contemporary Art, for further information please visit http://ucca.org.cn.
Related posts: