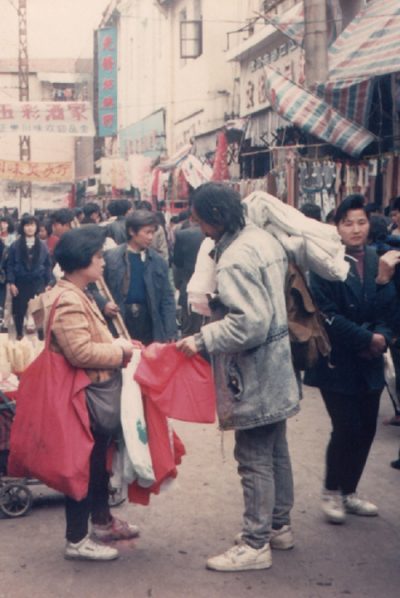 This group exhibition takes place over two rotations and focuses on the creative trajectories of Chinese artists during the early 1990s, at the outset of the sweeping, post-reform changes to Chinese society. It takes its title from the eponymous magazine found in Stories from the Editorial Board, a Chinese television comedy released in 1991. Such a title might also be understood to refer to the desire for a new and durable system of values that Chinese citizens felt when faced with neweconomic paradigms, shifting social norms, and futures of uncertainty. The exhibition aims to return to this moment in time, presenting a cultural itinerary that starts from the elite, intellectual-centered culture of the 1980s and continues with the collapse of values and the search for meaning after the onset of consumerism in the nineties. The exhibition focuses not only on the dilemma faced by the artist-as-intellectual, but on the origin of our cultural situation, and the complexities and absurdities of the moment. Participating artworks serve as markers on the surface of the flow of time, giving us a sense of the history they take part in, and the future to which they are bound. The exhibition is curated by Bian Ka.
Participating Artists:
Chen Shaoxiong, Ren Jian and New History Group, Wang Jin
About the Artists
Chen Shaoxiong
Chen Shaoxiong (1962-2016, Guangdong Province) was educated in the department of printmaking in the Guangzhou Academy of Fine Arts. Chen's practice encompasses a variety of artistic mediums, including photography, video, installation and ink painting, investigating the ever-changing urban landscape of contemporary China. His major solo exhibitions include "Chen Shaoxiong: Prepared" (Power Station of Art, Shanghai, 2016) and "Chen Shaoxiong: Ink. History. Media." (Seattle Art Museum, 2014). Chen's work has also appeared in major group exhibitions such as "Art and China after 1989: Theater of the World" (Solomon R. Guggenheim Museum, 2017); "Xijing Man: Xijing Is Not Xijing, Therefore Xijing Is Xijing" (21st Century Museum of Contemporary Art, Kanazawa, 2016); "Sights and Sounds: Global Film and Video" (The Jewish Museum, New York, 2014); and "Ink Art: Past as Present in Contemporary China" (The Metropolitan Museum of Art, 2013). His artworks have also appeared in The 21st Biennale of Sydney (2018); the Bi-City Biennale of Urbanism/Architecture, (Shenzhen, 2017); and The 9th Gwangju Biennale (2012).
Ren Jian and New History Group
Ren Jian (b. 1955, Liaoning province) obtained bachelors and masters degrees from Lu Xun Academy of Fine Arts. During his time in college, Ren Jian established Bei Dao, Mang Ke, and Dao Zi, and together they established the "Northern Art Group," a collective driven by the members' shared views on culture. During his time as a graduate student, Ren created the series "Heaven & Earth" and "Primeval Chaos." In 1988, after attending the China Modern Art Conference held at Huangshan, he started to work at Wuhan University where, in 1992, he cofounded "New History Group" with artists including Zhou Xiping, Zhu Xikun, Liang Xiaochuan, Yu Hung, Zhang Sanxi, Wang Yubei, Zhao Bing, Wei Ming, Dao Zi, and Fu Zhongwang; Ye Shuanggui, Ye Niu, Yu Youbin and Chen Mo joined later. During the 1992 Guangzhou Biennial, New History Group conducted their first performance, Disinfecting, which became the most important artistic event of the period. In November 1992, the collective realized their second artistic event, New History 1993, Mass Consumption, a multimedia event involving music performances, fashion shows, and a sale of artifacts. In April 1993, the evening before the event opening at the new McDonald's in Wangfujing, the event was shut down by the Beijing Public Security New History 1993, Mass Consumption was finally realized in venues like Wuhan Clothing City, Wuhan Exhibition Center, and Wuhan Donghu Park later that year. After 1995, New History Group gradually incorporated more elements from everyday life into their artistic practice, and members began focusing more on individual work. The solo exhibitions of Ren Jian and New History Group include "Inside Out; New Chinese Art" (San Francisco Museum of Modern Art, Asian Art Museum, Museum of Modern Art, and Asia Society and Museum, San Francisco and New York, 1998-2000); "China's New Art, Post-1989" (Hong Kong Arts Centre, 1994); and "China/Avant-Garde Exhibition" (National Art Museum of China, Beijing, 1989). His work has also appeared in "History: Not Always What it Seems" (OCAT Xi'an, 2015) and the 4th Gwangju Biennale (2002).
Wang Jin
Wang Jin (born 1962, Shanxi province, lives and works in Beijing) graduated from the China Academy of Art in 1987. His artistic career begun in the early 1990s, and his practice involves experiments in various mediums. His major artworks include Knocking at the Door, Fighting the Flood—Red Flag Canal, To Marry A Mule, Ice 96 Central China, The Dream of China, My Bone, Installation People's Republic of China, Passport No.1295109, Wang, and Ursa Major. He has participated in exhibitions including "Ink Art: Past as Present in Contemporary China" (The Metropolitan Museum of Art, 2014); "Power and Prestige: Chinese Dragon Robes, 18th-21st Century" (The Metropolitan Museum of Art, 2014); "Mahjong, Contemporary Chinese Art from the Sigg Collection" (Kunsthalle Hamburg, 2006-2007); and "Between Past and Future: New Photography and Video from China" (International Center of Photography, New York, 2004). His artwork has also been included in the First Guangzhou Triennial (Guangdong Art Museum, 2002-2003); and the 48th Venice Biennale, Venice (1999).
About the exhibition
Dates: 2019.5.18 – 2019.8.18
Venue: Open Gallery, New Gallery, Central Gallery, UCCA
Courtesy of the artists and UCCA, for further information please visit http://ucca.org.cn/en.
Related posts: