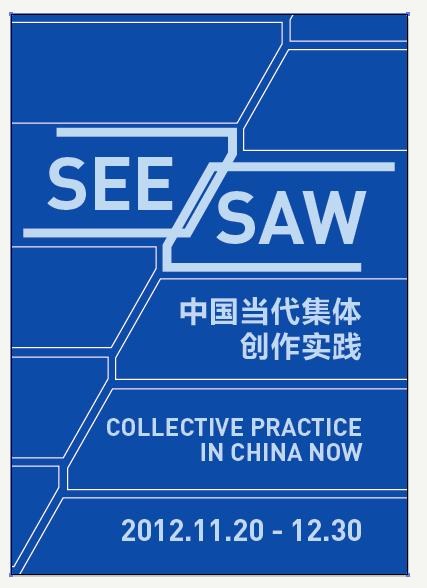 SEE/SAW: Collective Practice in China Now will examine the production processes and decisions involved in creative collaborations, which have become a major trend in the Chinese context during recent years. A prologue to UCCA's upcoming 2013 exhibition ON|OFF: China's Young Artists in Concept and Practice, SEE/SAW presents many of the individual artists who will be included in ON/OFF within the context of Chinese contemporary art's most recent collaborative efforts. For this iterative project, at least thirteen invited artist collectives will rotate in and out of UCCA's Long Gallery, which will be divided into two spaces. The collectives will be paired and then take turns filling their space in the gallery, each independently conceiving a week-long exhibition. In focusing on the concept of the "group," SEE/SAW explores the notions of co-dependence and reaction; viewers will, with the exhibition's weekly reincarnations, be urged to observe how the exhibitions may or may not play off one another.
About the exhibition
Date: 20 Nov – 30 Dec 2012
Venue: Ullens Center for Contemporary Art
Address: 798 Art District, No. 4 Jiuxianqiao Lu, Chaoyang District, Beijing, China 100015
Tel: +86 10 5780 0200
Fax: +86 10 5780 0220
Curator: Paula Tsai
Collectives:
2012.11.20 – 11.25
Double Fly Art Center + A Diaodui
2012.11.27 – 12.02
Museum of Unknown + Zuzhi + North Village Independent Workshop
2012.12.04 – 12.09
Irrelevant Commission + 8mg
2012.12.11 – 12.16
TOF + Art Praxis Space
2012.12.18 – 12.23
LVXIAO + Nanshan Painting Group
2012.12.25 – 12.30
Guest + HEXIE BAROQUE + Cell Art Group
Courtesy of the Ullens Center for Contemporary Art, for further information please visit ucca.org.cn.
Related posts: