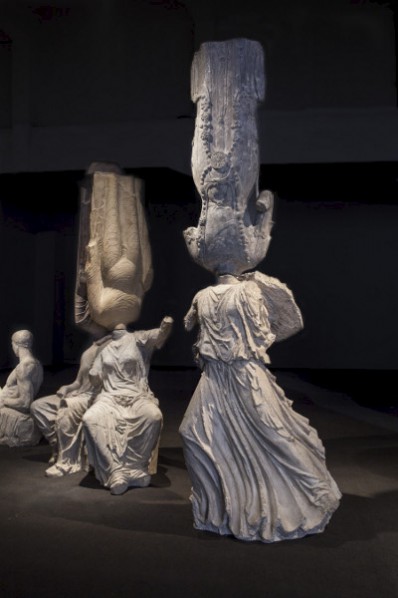 UCCA is proud to announce a major mid-career survey of mercurial Chinese artist Xu Zhen (b.1977, Shanghai), one of the most interesting and promising artists working in China today. An irreverent artist with a voracious appetite for global information and a unique ability to produce work across multiple platforms and media, Xu Zhen is a key figure in the Shanghai art scene and a foundational figure for the generations of Chinese artists born since 1980. The exhibition is curated by UCCA Director Philip Tinari and UCCA Chief Curator Paula Tsai.
Xu Zhen's practice incorporates a wide range of media, including painting, sculpture, mechanical installation, video, photography, and performance, often within a single piece. "Xu Zhen: A MadeIn Company Production" comprises a similarly diverse set of works, with over 50 installation pieces, 10 videos, 40 painting and collage works, and several performances, filling UCCA's signature Great Hall. The exhibition spans Xu Zhen's early works made in his own name beginning in 1997, works made under the moniker MadeIn Company between 2009 and 2013, as well as significant new pieces produces specially for this exhibition under MadeIn Company's "Xu Zhen" brand.
The title "Xu Zhen: A MadeIn Company Production" acknowledges the longstanding relationship between the aritst's individual practice and his sprawling involvement with the Shanghai contemporary art scene. In 2009, Xu Zhen dissolved his art practice into the "contemporary art creation company" MadeIn Company. Acting as the groups's CEO, Xu Zhen continues to undertake creative projects, artworks, and exhibitions under this revised mantle. MadeIn encapsulates Xu Zhen's unique conflation of art practice, curatorial work, and art promotion that has defined his multifarious career in the Shanghai art scene. The artist's withdrawal from his own name marks a rejection of the personal-driven contemporary art world while acknowledging that, since he first began working with art in 1997, Xu Zhen's artwork has always been a collaborative effort.
Says Tinari, "Since the early 2000s, Xu Zhen, with his unique combination of skepticism and action, contemplation and involvement, has produced some of the most compelling and self-knowing art contemporary China has ever seen. We look forward to presenting his considerable output to audiences who might not yet be familiar with the arc of his career."
"Xu Zhen: A MadeIn Company Production" includes a number of Xu Zhen's landmark works. his 1998 video Shouting, in which the artist lets out pained shouts on crowded city streets, only to capture the sequential shock and dismissal of hundreds of passers-by, made him the youngest Chinese artist to date to be included in the Venice Biennale. His 2007 installation Shanghart Supermarket, which takes the shape of a Shanghai convenience store fully stocked with packaging that has been emptied of content, sold for the price of the putative objects, was widely debated when it debuted at Art Basel Miami Beach at the height of the last art-market bubble. In Physique of Consciousness Museum, Xu Zhen uses various social, religious, and political criteria to array archaeological and ethnographic artifacts-actually just mounted photographs of the same-without respect to place or time of origin.
In a major new commission for the lobby, Xu Zhen literally and winningly juxtaposes East and West-that operative cliche of so much art in China- by mounting headless replicas of key Hellenistic and buddhist sculptures neck to neck.
The UCCA exhibition is realized in collaboration with MadeIn Company. It is accompanied by an eponymous catalogue which will mark the first comprehensive monograph on the artist's work, with essays by Philip Tinari and Lu Mingjun. The exhibition will coincide with The Armory Show 2014 (March 5-9), for which Xu Zhen has been appointed the Commissioned Artist as part of the "Armory Focus: China" section which Tinari has curated.
About the exhibition
Dates: January 19 – April 20, 2014
Venue: Great Hall and Lobby, UCCA
Courtesy of the artist and UCCA, for further information please visit ucca.org.cn.
Related posts: