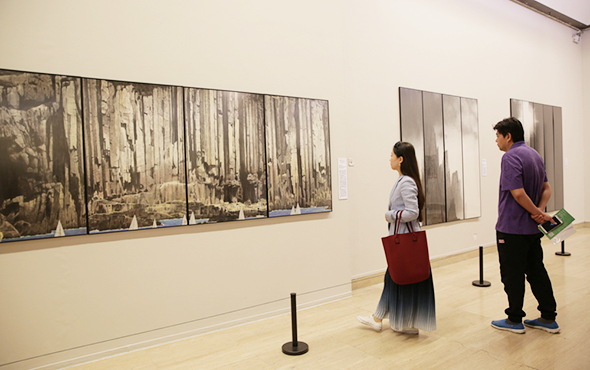 Hong Kong's ink painting style originated from mainland China. However, its development process slowed down due to the influence of the geographical relationship and the political situation at home and abroad. It did not open its doors to the modern world until the 1960s, and eventually had its own characteristics. Born in Chongqing, China, in 1946, Wong Hau Kwei moved to Hong Kong in 1978. He has resided in Hong Kong for many years, which gives him a special experience as reflected in his works. The opening ceremony of the "Wong Hau Kwei Ink Art Exhibition" was held at the National Art Museum of China at 2:30 pm on 9 May 2018, by the China Painting Institute and Hong Kong Ink Creativity Association, and co-organized by Shenzhen Fine Art Institute. It presents more than 20 of Wong's works with a purpose of highlighting the subject of urban ink painting and natural landscapes, which reveal his experiences through the creation of ink painting in recent years. It also offers the audience an opportunity to have a restricted view of the development of Hong Kong's ink and wash.
On entering the gallery, the audience would be touched by the refreshing style of Wong Hau Kwei's paintings, which is reflected in both the themes chosen by Wong Hau Kwei, and the ink language and sense of form. This style is rooted in the nourishment and influence of regional culture on the artist. In the mid-1950s, when the cultural contacts between China and Hong Kong were stopped due to the international situation, European and American modernism was in full swing. In this context, Chinese painters who resided in Hong Kong began to conduct experiments of ink painting as an important event in the history of Hong Kong's ink painting, and Lyu Shoukun is a representative of this period. Lyu wrote a book "Research on Chinese Painting" and advocated the idea of "ink painting as a style of painting that expresses the self." He had founded an artistic conception of the Western modern painting that is similar to the tradition of Chinese painting, so that, he began to explore abstract or semi-abstract ink paintings while creating traditional ink and wash. The ink-and-wash medium has been separated from the traditional Chinese painting, and has become an open medium in his abstract paintings. Influenced by Lyu Shoukun's thought and his art, a group of young artists including Laurence C. S. Tam, Wucius Wong and Kan Tai-keung boldly conducted experiments of ink painting. Since then, Hong Kong's ink painting has really had its own style.
The ink and wash movement which was initiated by Lyu Shoukun, Laurence C. S. Tam, Wucius Wong and Kan Tai-keung, has deeply influenced many artists from Hong Kong, including Wong Hau Kwei, who delivered a speech at the opening ceremony and frankly said that he was a student of Wucius Wong. When Wong Hau Kwei moved to Hong Kong in 1978, a style of painting had been established in Hong Kong, and Liu Guosong, who came from Taiwan, started with material to transform ink and wash. In this context, Wong combined it with the skills of traditional Chinese painting that he has learned from a master of Chinese painting Huang Zhou (1925-1997) in the early days, and he then gradually developed his own characteristics in paintings on the road to ink and wash.
In this exhibition, on the one hand, we can see Wong Hau Kwei's aesthetic exploration of traditional ink painting, his work "Lion Mountain with Fog" (2017), was inspired by Wu Zuoren's idea of ink and wash. He used the blankness to express the emptiness, which is also a form of artistic conception from the traditional space element in Chinese painting. "Purity of Mind" (2017) used a variety of brush-and-ink patterns to express the picture, which has both avoided copying the ancient style, and created a self-expression method. On the other hand, we can also see that Wong Hau Kwei has absorbed nutrients from the Western abstract paintings, the use of block compositions of Western paintings, and it has also strengthened the expression of light and color, to present urban landscapes with ink painting. The amazing works include "Sailboat at Victoria Harbor" (2018), "Sunset of Chicago" (2018), etc. They present the inverted images of modern high-rise buildings and windows which have never been seen in works by other artists.
Wong Hau Kwei holds his second show at National Art Museum of China, after the first show was held 21 years ago. It is a summary of Wong Hau Kwei's artistic career over decades and is also a start. He also expects to hold the next show 10 years later. It remains on view till 20 May.
Text and photo by Yang Zhonghui, translated by Chen Peihua and edited by Sue/CAFA ART INFO
Related posts: