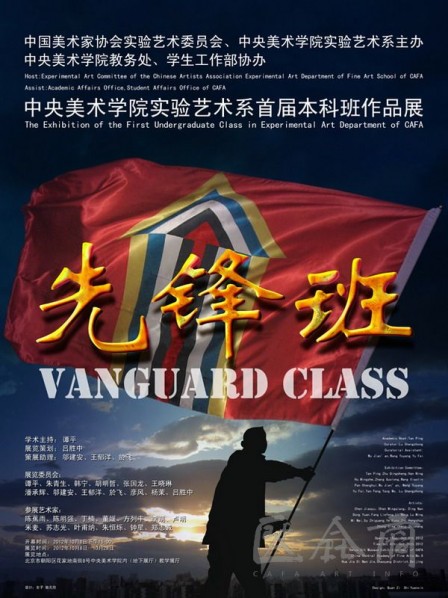 Questions about the access and entrustment of the graduates from professional art academies have constantly risen to the surface meanwhile concerns about the ecology of youth artists and the future tendency of Chinese art have remained an increasingly frequent focus of news reports and academic discussions. These graduates who were enrolled in the Central Academy of Fine Arts in 2004 are the first batch of "orthodox" experimental artists trained by the School of Fine Arts of CAFA, which is also known as the "Vanguard Class". The students of the class graduated in 2008 when the once red-hot Chinese art market suddenly slipped into depression which has burdened them with great challenges of survival and art. Today, four years have passed and some of the 14 students from the class chose to pursue postgraduate education while others decided to be freelance artists, no matter what kind of choices they have made, they all stayed in Beijing with the contradiction between real life and artistic ideas.
Therefore, we hold an exhibition entitled "Vanguard Class" to bring some related academic discussions which will focus on graduates' artistic accomplishments after they emerged into society, so as to test the vitality and extension of their teaching achievement and representation of the persistent vanguard spirit of a new generation along the experimental journey via youthful footsteps.
Moreover, four years' social experience is encountered with the critical period of the hard journey. As the first graduate class in Experimental Art Department and the first group of "majors" engaging in experimental art brought up by a professional art academy, through the exhibition we hope to impress society with a comprehensively brand-new understanding of them as well as to instill a sense of energy from their alma mater—it is a neozoic "Hope Project".
Photo by Hu Zhiheng/CAFA ART INFO
Contents
Section I: Exhibition "Vanguard Class"
Artists: The 2008 session of undergraduates in Experimental Art Department of CAFA,
Chen JiaoYu, Chen Mingqiang, Ding Nan, Dong Yuan, Fang Liefeng, Li Meng, Lu Ming, Mi Mai, Su ZhiGuang, Ye Funa, Zhu Hengshuo, Zhong Xing , Zheng ZhiCheng
Works: Latest works of every artist and picture shows of their artistic course including works and books
Opening: 15:00 o'clock in the afternoon of October 8th, 2012
Venue: The Teaching Hall in the Building5 of CAFA
Date: October 8th, 2012-October 28th, 2012
Section II: News Release Conference
Time: 13:30 in the afternoon of October 8th, 2012
Section III: Symposium and Seminar (Oct 25-26)
1. Our lives and Artistic Ideals-the Border Between Classroom and Society
2. Dialogue Between Youth Artists and Art Institutions
3. Academy and Social Space
4. Shall we undertake the future?
Section IV: Survey on the Status Quo of Graduates from Department of Experimental Art
A survey team will be sent to do in-depth interviews with young artists and record their living states through photographs and audio recordings.
Section V: Publishing Vanguard Class—Case Studies on Experimental Art Education
Operating Team:
Academic Director: Tan Ping
Curator: Lv Shengzhong
Curatorial Assistants: Wu Jianan, Wang Yuyang, Yu Fei
Exhibition Committee: Tan Ping, Zhu Qingsheng, Hang Ning, Hu Mingzhe, Zhang Guolong, Wang Xiaolin, Pan Chenghui, Wu Jianan, Wang Yuyang, Yu Fei, Yan Feng, Yang Mo, Lv Shengzhong
Courtesy the artists and CAFA ART INFO.
Related posts: