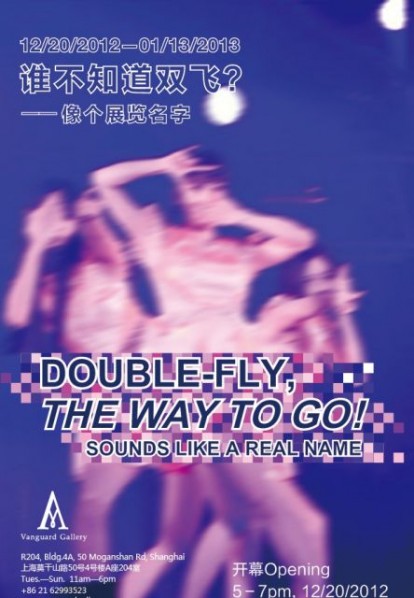 Since their constitution in 2008, Double Fly Art Center (hereafter referred to as "Double Fly") has created sorts of videos seemed very absurd with sense of amateur, coarse and slightly decadent.
Either in early works "Double Fly robs a bank", "So You Think You Can Dance", "contemporary trading for Love Business" or their recent "Death of Basel"and"Double Fly saves the world", the nine members of Double Fly-Cui Shaohan, Huang Liya, Li Fuchun, Li Ming, Lin Ke, Wang Liang, Sun Huiyuan, Yang Junling and Zhang Lehua-always rig themselves out as alien to the real life while their collective emergence in public places, the exhibitions, etc.. They often start something unimaginably queer and all the absurdity seems adolescent pranks and rebellious. But after seeing the "Farces of Double Fly Style" for five years, the default, thinking and careful arrangements in their creation has gradually emerged. Here it's found that originally the people running wild is not Double Fly but us.
On December 20th, new exhibition "Double-Fly, The Way to Go!-Sounds like a Real Name" will show their different appearance in Vanguard Gallery. This so called "Painting Workshop" event brings two parts contents of "To Learn from Lin Ke" and "Zhen Painting". The nine members, currently living around different cities, separately create paintings in their own way. In the painting process, Double Fly's new universe gradually formed and the exhibition has become the beginning of a new universe.
Are you looking forward to seeing the aspect of Double Fly's new universe? So please keep your time during 5pm to 7pm on December 20th. Let's enter Double Fly's universe together!
About the exhibition
Date: 20 Dec 2012 – 13 Jan 2013
Location: Vanguard Gallery
Courtesy of the artists and Vanguard Gallery, for further information please visit www.vanguardgallery.com.
Related posts: