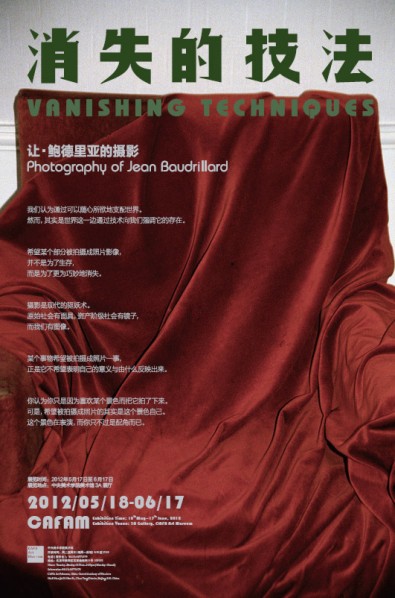 Curated by Fei Dawei, renowned art critic and curator, Vanishing Techniques: Photography of Jean Baudrillard raised its curtains at CAFA Art Museum on May 18th, 2012. Baudrillard's photography demonstrates a unique way of viewing the world by a unique thinker, and it has attracted widespread attention and controversy in the international photography community. The 50 photographs showcased at this exhibition were hand-picked by Mrs. Baudrillard. The exhibition at CAFA Art Museum is its second stop of the tour since it debuted at the Lianzhou International Photography Festival in 2010.
Undoubtedly one of the most important thinkers in the world, the French thinker, Jean Baudrillard (July 27, 1929 – March 6, 2007), was also the most provocative and controversial writer. Between 1971 and 2007, he wrote more than 20 books and 200 articles, becoming one of the most translated contemporary French writers in the world. The subject areas he covered were wide-ranging. His simulacrum theory, consumer symbols and symbol exchange theories already became the indispensable ideological coordinates in postmodern cultural studies.
Baudrillard held that in the current social structure, subject, meaning, truth, and real objects have already disappeared and been replaced by symbolic goods. The object world has already been replaced by "super-simulation" logic of symbols. Subject has been thoroughly crushed, while meaning and the real world no longer exist. In the present world, there are no other theories that pinpoint and dissect the major rift between "modernism" and "postmodernism" in a more in-depth and powerful way than Baudrillard's theory does.
Although Baudrillard pointed out that truth and meaning have already vanished, he attempted to distance himself from that that has vanished and to participate in the game by staying away from the game. It was a heroic participation without illusions, a "violence against violence," using the violence of theories and explosiveness of thoughts to resist the violence of symbols. Hence he also claimed to be a "terrorist of theories" himself.
Baudrillard was unique in photographic theories and practice as well. Similar to his way of engaging with theories, he insisted on pursuing photography with a "layman" view. Just as he asserting himself not as a philosopher, he asserted that he was not a photographer either. From the perspective of reversing subject and object, he raised new photography concepts and attitudes, discarding the photographer's subjective projection, discarding topics, world views and styles, "stripping meaning and context off the surroundings of object" in order to delineate "what the object itself wants to manifest." Thus, to Baudrillard, photography is an act of losing self identity.
CAFA Art Museum specially produced pamphlets which are collections of anecdotes about Baudrillard's monographs on photography. Besides, a "reading corner" is set up at the 3A Gallery where the monographs of Baudrillard which have been translated and published in China as well as research related to Baudrillard that has been collected and exhibited.
Curator: Fei Dawei
Date: 2012.05.18 – 2012.06.17(closed on Mondays expect for holidays)
Venue: CAFA Art Museum, 3A, 4F Galleries
Related posts: