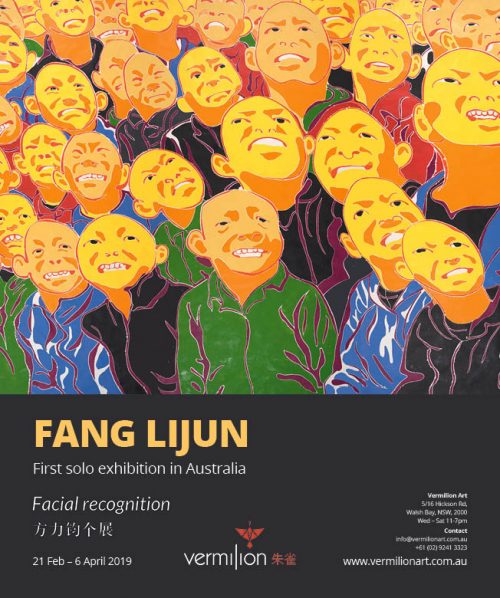 Vermilion Art is privileged to present Fang Lijun: Facial recognition, the first solo exhibition by Fang Lijun in Australia, a contemporary Chinese artist who enjoys an almost rock star status in China and internationally.
The set of striking mostly large woodblock prints on show were made between 2013 and 2018. The grinning and grimacing bald heads, a recurring theme is his work, point to the artist's concerns for ordinary people struggling to keep hold of an individual identity in contemporary societies, both East and West.
Fang Lijun graduated from the printmaking department of the Central Academy of Fine Arts (CAFA) in Beijing. To make these works on show he has revived an ancient Asian method of woodblock printing, a complicated and exacting process of carving a 'negative' image into a panel, coating the surface in ink and color, and impressing the image onto silk. In doing so he is not only able to create large works with bold visual impact but to bring socialist visual culture into the modern era.
About the exhibition
Dates: Feb 21, 2019 – Apr 6, 2019
Opening: Feb 21, 2019
Venue: Vermilion Art
Courtesy of the artist and Vermilion Art, for further information please visit www.vermilionart.com.au.
Related posts: