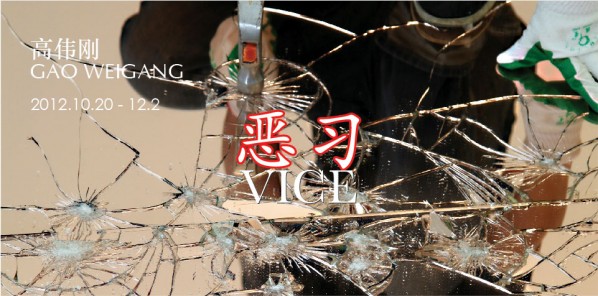 The existence of things does not depend on the awareness of human beings. People are always trying to build a spiritual bridge connecting themselves to things and transform it into their internal sense of belonging; moreover, they love to confer meanings to things without regarding whether they are harmoniously associated with them or not. Such efforts made to save the original meaning of things will constantly fall into the trap of a habit. Below is the explanation of the artist Gao Weigang in regard to his exhibition "Vice":
Actually I have always been suspecting what can be changed or brought about by one thing. For me, a person walking in the snowfield with a cigarette in his mouth is nothing else but a person walking in the snowfield smoking a cigarette. Even if you watch this painting for an entire year, it will never take on any meaning about the end of the world.
Our life is composed by numerous fragments. When describing or simulating these fragments, some images will emerge. Yet sometimes, no matter if its by intuition or because of logical analysis, we would have some illusions and see metaphors in it. We string them together painstakingly and look for a satisfying explanation or answer according with our personal experiences. We call this action "understanding"; actually, most of the time we can only please ourselves again and again with methods familiar to us.
We are happy to rely on our own judgments without questioning or speculating about them, which is a kind of vice.
About the artist
Gao Weigang (b. 1976, based in Jixi, Heilongjiang Province, China) is an intensely versatile artist, reveling in his capacity to turn from painting to performance and then to sculpture in the short space of a single project, emphasizing wild experimentation and bold initiative over style or unitary practice. The 2011 winner of the ArtHK Art Futures prize, Gao Weigang evades categorization of his artworks into a particular genre. His language makes each piece both the apparatus and the product of experiment, transforming objects so they break through the audience's natural and ideological perceptions of the material world. Gao Weigang's creations are also personal: they are milestones in the artist's quest of self-reflection and a constant re-examination of himself. Despite the many artistic forms and materials Gao Weigang adopts and the great aesthetic variations throughout his works, they all reflect his intention to challenge the viewer's accustomed visual culture with a sense of humour and an overriding hint of skepticism. Whether it is painting, sculptures or installations, the artist manages to retain a strong sense of medium-specificity.
Date: 2012-10-20 – 2012-12-2
Venue: Platform China A Space
Address: No. 319-1, East End Art Zone A, Caochangdi Village, Chaoyang District, Beijing 100015
T: +86 10 6432 0091
F: +86 10 6432 0169
Courtesy of the artist and Platform China, for further information please visit www.platformchina.org.
Related posts: