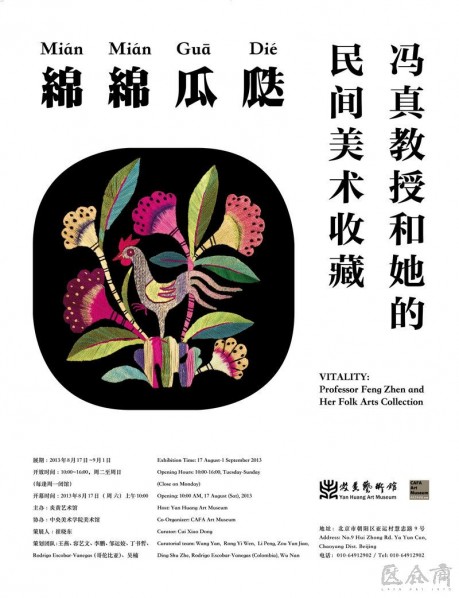 On August 17 through to September 1, 2013, "Mian Mian Gua Die Professor Feng Zhen and Her Folk Art Collection" is held at Yan Huang Art Museum. It is hosted by Yan Huang Art Museum, co-organized by CAFA Art Museum. It's a large scale exhibition to promote Chinese folk art held by Yan Huang Art Museum, and comprehensively presents the collection and conservation achievements of folk art by Professor Feng Zhen over the years.
Feng Zhen is a famous Chinese artist, art educator, one of the pioneers of the art of new China. She grew up joining the revolution, and was involved in the establishment of CAFA, as an art worker in the liberated region in 1949, she was delegated to the former Soviet Union, studying in Repin Academy of Fine Arts, to accept the training of Western painting, especially the rigorous Russian School system, teaching in the Department of Oil Painting, CAFA after returning to China.
From the love of Chinese folk art, she became one of the founders of the Department of New Year Painting and Comics, CAFA, after the reform and opening, which was first time to research and teach folk art in a college. She tirelessly went to various regions of distinctive folk art, completing a large number of studies of folk art and fieldwork over a long time, deeply researching the major regional distribution, artistic characteristics, and the cultural traditions behind Chinese folk art, meanwhile, collecting a large number of precious works of folk art and literature, visiting many old folk artists, devoting a great deal of effort to the rescue, research, advocacy, promotion of folk art, making outstanding contributions.
These exhibited works are composed of the artworks that reflect the strong and honest folk lives, which are personally collected by her, when she visited the provinces of Shanxi, Shaanxi, Gansu, Shandong, etc. The viewers are allowed to vividly and intuitively understand the rich and fresh vitality of Chinese folk art, as well as the cultural significance hidden behind the art.
After the exhibition, Professor Feng Zhen will donate her collection to art institutions and museums.
Translated by Chen Peihua and edited by Sue/CAFA ART INFO
Related posts: