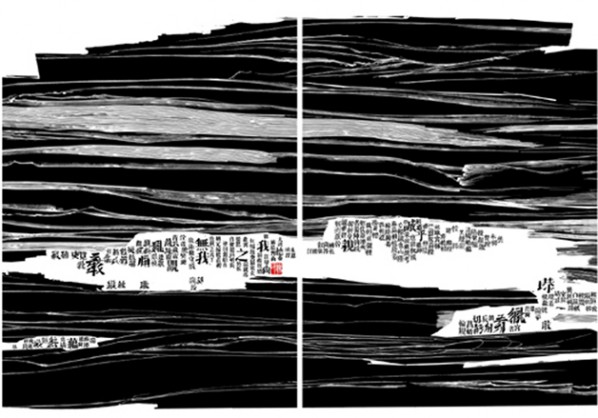 Engraving art is regarded as a plastic art by taking plate as media. Today, this form of art, whether it is copperplate etching, lithograph, silkscreen prints or long-standing wood engraving, has all become carrier of expressing art creation personality and humanistic spirit.
As a creative group of academic engraving art, all the 17 participating artists come from Engraving Departmentof Tianjin Academy of Fine Arts and present over 100 pieces of works. The artists not only explore the possibility of printmaking in their own way but also regress original intention of art creation through material language. Entitled Walking on Plate, the exhibition consists both classic works and new ones of young and middle-aged artists. With exhibits being diversified in media, language and form, the show pays close attention to developing road of engraving in the context of contemporary art.
This exhibition is a central showcase to latest teachers' works of Engraving Department of Tianjin Academy of Fine Arts. It also provides an opportunity for the public to get to know and understand engraving art.
About the exhibition
Show Time: 2015-12-12 14:00 To 2015-12-22 12:00
Venues: Hall 2, 4, 6, the National Art Museum of China
Courtesy of the artists and the National Art Museum of China, for further information please visit www.namoc.org.
Related posts: