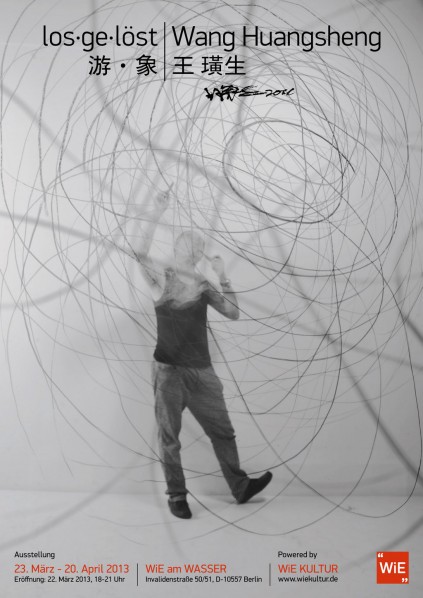 I was painting, with no particular aim in mind, and the circles and lines that emerged were quite interesting. As I was pondering, two Chinese characters, you and xiang (roaming and apparition, or image) came to my mind and merged into one word. I appreciate, adore even, the notion of you (roaming), a key term in Chinese classical thinking and writing. In the discourse of Chinese culture, you has a strong spiritual connotation. You is a method to help us transcend our tangible existence… Xiang (apparition) in this context becomes a passageway that leads to heart and mind. The images could also be Images with a capital "I", this apparition or Image, however, is "formless". It is a medium roaming between the tangible and the intangible worlds.
– Wang Huangsheng, Beijing
Wang Huangsheng has been known as the most applauded museum director in China. While he was still in charge of the Guangdong Art Museum in southern China, he transformed the museum into a center of dynamic experimentation for the arts. Now he is the director of the Art Museum of the Central Academy of Fine Art Beijing (CAFA). For his contribution to the cultural understanding and collaboration, he has received the "Knight Medal of Art and Literature" from France in 2004 and from Italy in 2006.
Parallel to his engagement in the public sphere, he has always been an artist. WiE KULTUR is delighted to present Wang Huangsheng's first solo exhibition in Europe, "los.ge.löst" in its special project space, WiE am WASSER, which is located on the northern plaza of Hamburger Bahnhof in Berlin center.
WiE KULTUR is an art space founded by Chaos Y. Chen, a former museum curator and art critic from Beijing. In Berlin as well as through Berlin, the biggest art and cultural clusters in a city scale, WiE KULTUR aims to present the richness of the aesthetic approaches through visual art exhibitions, concerts and publishing. Due to the different history and traditions, cultural difference would be born to nature. However, walking on the varied path and yet toward the same destination.
To accompany the exhibition, a catalogue in both German and English will be published by WiE KULTUR.
About the exhibition
March 23 – April 20, 2013 | Opening: Friday, March 22, 18:00 – 21:00
Panel Discussion: Saturday, March 23, 14:00-16:00
Venue: WiE am WASSER powered by WiE KULTUR | Invalidenstraße 50/51, D-10557 Berlin
Courtesy of Wang Huangsheng and WiE KULTUR, for further information please visit www.wiekultur.de.
Related posts: