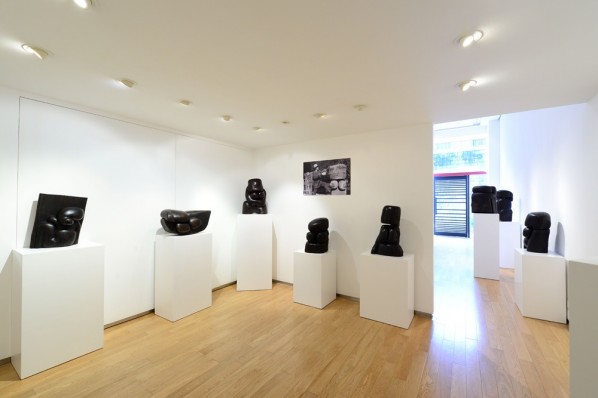 10 Chancery Lane Gallery, Hong Kong, will present a major solo exhibition by leading Chinese contemporary artist Wang Keping, a founding member of the 1979 Beijing avant-garde group The Stars (Xing Xing), from 23 November 2012 – 28 January 2013. The exhibition comprises 24 sculptures which have never been seen before in public.
The sculptures mark the continuing evolution of Wang Keping's technique and exploration of the human form. Erotic and inviting, they convey a highly sensual representation of the female body, of man and woman, mother and child. Highlights from the exhibition include: Desire (2000), an over-sized pair of highly polished lips, slightly parted, with a glossy tongue appearing to approach the viewer; and Madame Butterfly (2000) a dancing woman, formed from a slice of tree trunk nearly one metre in width. This monumental work has an appearance of lightness and movement despite its dense weight. Wang Keping reveals the natural forms of the wood: the grain; knots; and flaws to evoke the contours of the figures in his work.
Beginning the carving process while the wood is still fresh and moist, Wang Keping encourages cracks to form which, once dried, create details such as hair, clenched fists and folds of skin.
Katie de Tilly, founder of 10 Chancery Lane Gallery says: Wang Keping is one of China's foremost sculptors. His work defies definition. Inspired in his early years by masters of European Modernist and African sculpture, his search today stems from Zen or Buddhist ideas of simplicity and nature, material and the non-material, physical and spiritual. Through his bestial erotic forms and swirling lines he works with a language of natural intuition of space and object, collaborating with his material and the secrets it has to reveal.
A founding member of Beijing avant-garde group The Stars (Xing Xing), Wang Keping was the most outspoken and widely recognized non-conformist artist of the group, who emerged in 1979 with groundbreaking sculptures Silence (1978), Idol (1979) and Chain (1979), now part of the M+ Sigg collection, representing a radical departure from over 30 years of Socialist Realism promoted by Maoist government officials. Keping's early work was noted to be the most provocative of the group, depicting shocking portraits of faces with their mouths plugged into silence, eyes blinded from seeing, chains around the neck, bodies being squeezed by enormous hands, and grotesque tumors and so on.
Other members of the Stars group include Huang Rui, Ma Desheng and the young Ai Wei Wei. Wang Keping today states: 30 years ago, the stars twinkled in the dark night; today, they are still smiling in the mist.
10 Chancery Lane will present Wang Keping at Art Paris from 28 March to 1 April 2013. The artist lives and works in Paris, France.
About the exhibition
Duration: 23 November 2012-28 January 2013
Venue: 10 Chancery Lane Gallery
Address: 10 Chancery Lane, Soho, Central, Hong Kong
Press Enquiries:
Tamsin Selby, Veronica Chu
Sutton PR Asia
E: tamsin@suttonprasia.com / veronica@suttonprasia.com
T: +852 2528 0792
Courtesy of the artist and 10 Chancery Lane Gallery, for further information please visit www.10chancerylanegallery.com.
Related posts: