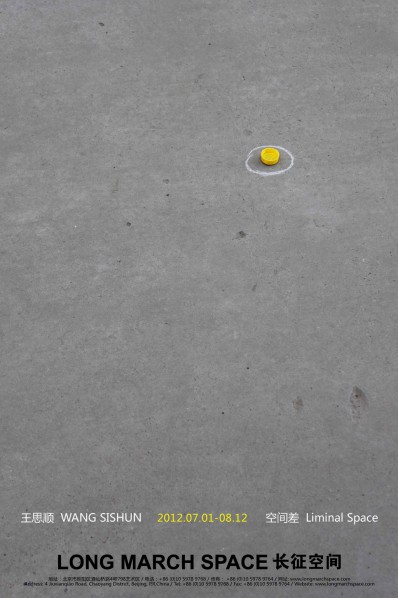 Entitled "Liminal Space", the debut show of Wang Sishun at Long March Space is on view from Jul 1st through to Aug 12th. Featuring four sculptural installations and an inspiring video work, the exhibition allows the audience to get a rational experience of emotion rooted in the time-space relationship.
The works and the reality come across in two different ways. For some work, the archetypes form an integral part of the final version. Such archetypes are used, consumed and circulated in the real life. However, moments and fragments are mixed to create between the product and the archetype a sense of space difference so that they meet and part from each other while being fixed in parallel worlds. Other installations explore the experience of deviation and distortion in a complex space produced from one-way plane folding.
How is events related? Wang's video work All The Flesh Are With Remorse (2012) uses a theatrical form of architecture combined with a rough media comprising a noisy heavy traffic of vehicles to build up a picture of the surroundings and scenarios that are somewhat familiar to us. A multi-dimension world of experience is created under the goal of challenging the nature of being.
"Liminal Space" is Wang's way to show us a bizarre mental world and infinite, revolving spatial order. As Heidegger's opinion the world does not readily exist in space; but the only space was able to reveal in single one world. It is precisely the space to create time-sensitive so that we can understand the space does not depend on time.
Wang Sishun( b.1979, Wuhan) graduated from CAFA at 2008 is a very active young artist in China. Wang Sishun' s artistic practice tends toward integrated media including installation etc. He mainly focus on the conversion relationship of different form of matter. Targeting the uncertain future, he gradually added the social concept "Circulation" into his experiment. In addition, regarding time and space and their transformation is other main topic.
About the Exhibition
Dates: Jul 1, 2012–Aug 12, 2012
Venue: Long March Space
Address: 4 Jiuxianqiao Road, Chaoyang District, Beijing, P.R. China
Tel: +86 (0)10 5978 9768
Fax: +86 (0)10 5978 9764
Courtesy of Long March Space, for further information please visit www.longmarchspace.com.
Related posts: