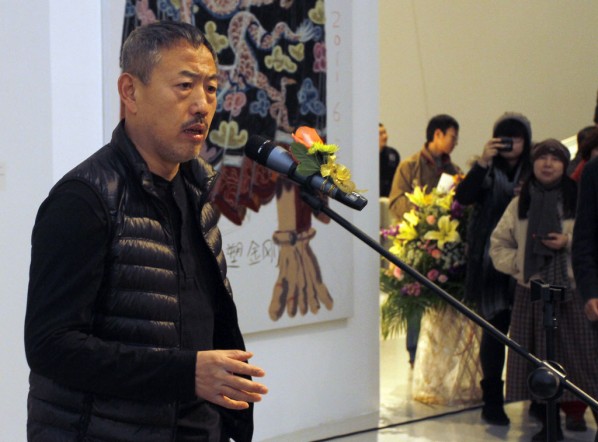 The Annual Nominated Exhibition of Plastic Arts by the Central Academy of Fine Arts—Wang Yuping is going to be closed on January 15th, 2012. Organized by the Central Academy of Fine Arts and curated by Yu Ding, Director of the Arts Management Department, School of Humanities at CAFA, it's hosted by the School of Plastic Arts, CAFA and the Museum of the Central Academy of Fine Arts. Belonging to the generation after the 1960s, Wang Yuping has been constantly adjusting his style of painting in forms, themes and languages all of which can be detected from his depressed and dull performance style in the late 1980s to his recent paintings from life which appear to have emotional harmony with the use of soft colors. The continuous adjustment of his roots is his desire and pursuit for an agreement between his creations and internal self, which fulfill his heart along with his passion for art.
Courtesy of Wang Yuping
On-site Photograph: Hu Zhiheng/ CAFA ART INFO
In recent years, Wang Yuping has persisted in sketching and painting from life and he draws his materials from the scenery of the four seasons in the ancient Beijing city and tedious things scattered in every corner of life. Compared with historical and significant events, these themes are abundant in the rich flavors of life that "lead directly to the hearts" and that's why Wang Yuping has poured a lot of emotions into the process of his paintings. Small pieces of items which are easily overlooked in ordinary life seem so worthy of pondering, bringing about a fresh visual and psychological experience to the audience by using their most vivid imagination. Wang also broadens his creative methods and materials and he casts his portrayal of tedious things on paper into painted relief works. This conversion from 2D to 3D produces a contrast which creates the same theme but is provided with a more profound meaning as well as more subtle temperament and interest. For artists like Wang Yuping, art creation may present a spiral state and forces himself back to the basics after a certain period of time, this then allows him to accumulate the power for the next breakthrough by the artist himself.
Related posts: